Andrew Niccol Gets Amanda Seyfried For I'm.mortal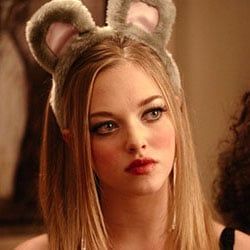 Who'd have thought the least of the Plastics would have ended up with one of the most impressive careers? Lindsay Lohan likely won't be seeing a film set for quite a while and Lacey Chabert's only theatrical release of the year is a film called In My Sleep, which I could go on and on about in a not so nice way. Of course there's Rachel McAdams, who's fairing quite well having had a nice handful of 2009 releases and Morning Glory on the way, but it's Amanda Seyfried's name that seems to be everywhere. So far this year she's already starred in Chloe, Dear John and Letters to Juliet and is attached to the upcoming productions Albert Nobbs, Red Riding Hood, A Woman of No Importance and The Girl Who Conned the Ivy League. Clearly not everything will be done at once, or happen at all for that matter, but that still isn't stopping Seyfried from adding another film to her to do list, I'm.mortal.
As reported by Variety, Seyfried has signed on to lead New Regency's sci-fi flick to be directed by Andrew Niccol from his own script. The piece is about a society in which all of the members stop aging at 25. In order to thwart overpopulation, time has become the equivalent of cash. The rich are basically immortal while the poor have to do what ever it takes to make some time. At the center of the film will be a guy from a ghetto who's wrongly accused of killing a rich man for his time. He goes on the run from the "time keepers" and takes a hostage with him, Seyfried's character. Variety says the rest best, "Together, this duo rages against the system, living minute to minute. They discover that love is more powerful than all the time in the world."
Minus that final dose of cliché cheesiness and that obscure period in the film's title, I'm.mortal has potential. If anyone can pull this off, it's Niccol. The guy's an expert at creating alternate lifestyles as shown in films like Gattaca, The Truman Show and even The Terminal to an extent. With Seyfried at the center, all Niccol needs is a decent team of 20-somethings to back her up. Odds are this will happen rather quickly and put distributor Twentieth Century Fox to work sooner rather than later because Variety is calling I'm.mortal a high-priority project.
Your Daily Blend of Entertainment News
Staff Writer for CinemaBlend.