Angelina Jolie And 5 Other Actresses Who Almost Played Cher In Clueless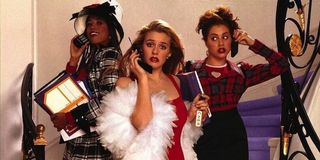 If you're of a certain age, Amy Heckerling's 1995's teen comedy Clueless is a definitive piece of cinema. It both captured and defined a particular moment in popular culture, and beyond, and introduced the world to Alicia Silverstone and Paul Rudd. And it also made people say "as if" too much. But it could have been a very different movie as there were a slew of young actresses in line for the lead role of Cher, including Angelina Jolie.
To mark the 20th anniversary of Clueless, Vanity Fair published an expert from Jen Chaney's oral history of the update of Jane Austen's novel Emma (for as different as they are, the two are remarkably similar). Over the course of the interviews, which include Heckerling, Silverstone, Rudd, producer Twink Caplan (who also plays Miss Geist), and tons of other players, it comes out that not only was Jolie in the running for the Cher part, but so were Alicia Witt, Tiffany Amber Thiessen, Keri Russell, Gwyneth Paltrow, and Reese Witherspoon.
Heckerling says she had her heart set on Silverstone for the role. However, when the project was still at Fox, where it was originally being developed a TV show and was once called I Was a Teenage Teenager, the studio wanted her to look at more options, which is how she came to check out others on the list. Silverstone became a sizeable star, but it's crazy to look at the names on this list and see what they've all done in their own non-Clueless careers.
Angelina Jolie, of course, went on to become one of the biggest female movie stars on the planet, collecting a slew of awards hard wear along they way, like her Oscar for Girl, Interrupted. Not only is she still a box office juggernaut on screen, fronting hit movies like Maleficent, she's also started directing prestigious movies like Unbreakable and an upcoming ivory poacher drama that has awards bait written all over it.
Alicia Witt first came to the attention of the general public in the mid-1990s as the daughter on Cybill Shepherd's sitcom Cybill, and has worked steadily in TV and films ever since, including a long run on Law & Order: Criminal Intent, acclaimed high school football drama Friday Night Lights, and a stint on FX's modern western noir Justified, just to name a few. We'll also always lover her because of her turn in John Waters' Cecil B. Demented.
Best known as Kelly Kapowski, the perky cheerleader and object of affection for both Zack Morris and A.C. Slater on teen sitcom Saved by the Bell, Tiffani Amber Thiessen (now just Tiffany Thiessen, though we can never call her that) is as busy as ever. She went on to have a lengthy run on Beverly Hills 90210, USA's White Collar, and even reprised her role as Kelly in an awesome bit on The Tonight Show earlier this year.
When she came to prominence on the J.J. Abrams-created Felicity, Keri Russell was known as the girl with the big hair—it was quite a to-do when she cut it all off. After working steadily, though never becoming a huge star, Russell has been kicking ass, figuratively and literally, on FX's fantastic The Americans, and even reteamed with Felicity co-creator Matt Reeves for Dawn of the Planet of the Apes last year.
Since not appearing in Clueless, Gwyneth Paltrow has done pretty well for herself, appearing in a string of Marvel movies, winning all kinds of critical acclaim, and even took a foray into TV and singing with Glee. Sure, she'd probably rather we don't talk about Shallow Hal, but that Academy Award for Shakespeare in Love must go a long way to helping her not care too much about that.
Reese Witherspoon starred in her own definitive, though admittedly very different, high school movie, 1999's Election (and Cruel Intentions the same year). Ever since, she's been wowing audiences in a variety of roles across numerous genres in big and little films (though maybe let's not dwell to long on Hot Pursuit). She won an Oscar for her portrayal of June Carter Cash in Walk the Line and even founded a production company with the express goal of finding and creating quality roles for women in movies.
Your Daily Blend of Entertainment News