The Animated Batman: Bad Blood Trailer Is Intense And Mysterious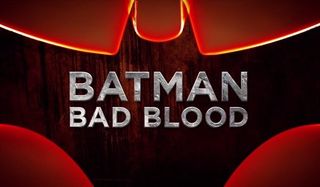 The recent shenanigans over at New York Comic Con offered up plenty of new information for a whole hoard of DC projects. Sure, nothing regarding either Batman V Superman: Dawn Of Justice or Suicide Squad emerged, but there was still plenty to devour regarding a variety of comics, graphic novels, and even the upcoming animation adventure, Batman: Bad Blood. In fact, the trailer for Bad Blood was screened, and you can check it out in the video below, if you skip ahead to 01:17.
I'm sold. Sure, obviously DC animation missed a great opportunity to tap into a younger market by not including Taylor Swift's Bad Blood song in the trailer, but I'm pretty sure that it wouldn't have matched up with it well anyway. Batman: Bad Blood is actually the sequel to Batman vs. Robin, the animated superhero film that was released direct to video earlier this year, and is part of the DC Universe of Animated Original Movies.
This time though, with Bruce Wayne missing, Alfred Pennyworth has taken it upon himself to cover as Batman. Doing most of the heavy lifting though is Nightwing and Robin, each of whom patrol around Gotham City, trying to protect the bustling metropolis from the hoard of dastardly villains that populate it. Which appears to include a gaggle of fighting nuns.
Meanwhile, with Alfred, Nightwing, and Robin none the wiser over where exactly Batman actually is, Batwoman comes on the scene and insists that she is going to investigate the Caped Crusader's disappearance.
The trailer hammered home how much of an odd-job bunch of vigilantes the group of Batman, Nightwing, Robin, and Batwoman are; insisting that the foursome were going to have to work as a family in order to succeed and to keep Gotham safe. Batman: Bad Blood has been produced by the same team behind Batman vs. Robin, with Jay Oliva directing and the screenplay being written by J.M. DeMatteis, based upon Batman: The Court Of Owls by Scott Snyder, Greg Capullo, and Jonathan Glapion.
It will also feature the vocal tales of Jason O'Mara as Bruce Wayne/Batman, Morena Baccarin as Talia al Ghul, Stuart Allan as Damian Wayne/Robin, Ernie Hudson as Lucius Fox, James Garrett as Alfred Pennyworth, Sean Maher as Dick Grayson/Nightwing, and Yvonne Strahovski as Kathy Kane/Batwoman.
We're still not exactly sure when Batman: Bad Blood is going to be released, but DC Animation have confirmed that it will be available on both DVD, Blu-Ray, and Digital HD in 2016.
Your Daily Blend of Entertainment News
Thank you for signing up to CinemaBlend. You will receive a verification email shortly.
There was a problem. Please refresh the page and try again.