Anne Hathaway Could Have Been Alice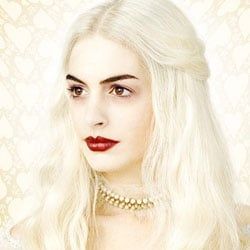 From what we've seen of Alice In Wonderland, Anne Hathaway seems to be an excellent fit as the White Queen. But the original plan wasn't to have Hathaway play the regal beauty, rather she was wanted as the film's lead, Alice. But when Tim Burton joined the project, he'd already formulated a dream cast and Hathaway wasn't part of it.
She tells GQ (via Digital Spy), "The studio had the Alice script a long time ago and I was approached back then for the part of Alice. I considered it, but felt, what with The Princess Diaries, that I had been there, done that sort of pretty-girl-in-a-fairy-dress role." She continued, "I told the studio, however, that if they find a director eventually, that I would be interested at a later date in playing the White Queen." Isn't it nice when you can just tell a studio what you want?
As for not being included in Burton's high hopes, Hathway explained, "When Tim came on board he had the cast he wanted and, of course, that didn't include me." Thanks to her unique take on the role and the other actress' conflicting schedule, Hathaway got the part. "I wanted the Queen to be a cross between Debbie Harry, Greta Garbo, David Bowie, with a little bit of the work of Dan Flavin thrown in for good measure. A sort of psychotic bunny rabbit."
Judging from the vast amount of impressive Alice promo material we've seen, Burton was on point in terms of casting. I'm sure Hathaway would have made a fine Alice, but the decision was a smart move. Not only did it keep here from being typecast, but the movie wasn't made until much later. Perhaps The Princess Diaries Hathaway would have made a great Alice, but now she's Oscar Anne Hathaway and far too mature for the role.
Your Daily Blend of Entertainment News
Staff Writer for CinemaBlend.