Anne Hathaway May Go Dramatic Again For Indie Song One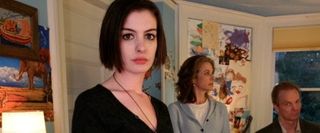 I'm having a hard time seeing the words "Anne Hathaway" and "song" in the same place and thinking of anything other than this morning's trailer for Les Miserables, in which Hathaway uses her strong but not totally impressive voice to sing "I Dreamed A Dream" with even more heartbreak than you could imagine. She's such the center of that trailer that it has me really interested in what she'll bring to the movie, though the casting news in Variety already has me forced to look further ahead.
They're saying that Hathaway is making plans to reunite with Rachel Getting Married producers Marc Platt and Jonathan Demme for the indie film Song One, in which Hathaway would star as a woman who returns home and starts up a relationship with her favorite musician. The story of a woman returning home and coping with her family sounds very close to the Rachel Getting Married territory, and since that role got her an Oscar nomination, Hathaway might be eager to return there after big projects like Les Mis and The Dark Knight Rises.
She's still one of the biggest female stars in her age range, but Hathaway suffered two disappointments in a row with the romantic dramas Love and Other Drugs and One Day, and she's smart to translate her roles in these two big upcoming films into something that she might have a little more control over again (she's co-producing Song One along with her fiancee Adam Shulman). The film will be directed by first-timer Kate Barker-Froyland, so it's hard to know what to expect there, but with filming looking likely to start this year, we'll be interested to see the results.
Your Daily Blend of Entertainment News
Staff Writer at CinemaBlend