Anne Hathaway's Sorta Godzilla Knockoff Film Has Pissed Off The Real Godzilla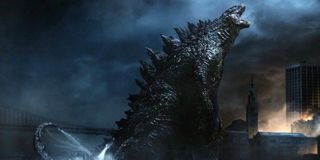 If you can't wait to see Anne Hathaway go up against a monster that closely resembles Godzilla in Colossal, then prepare yourself for some bad news, because the production company behind the real Godzilla has started a legal battle with the intriguing flick. Toho believes that the new project is too similar to their most famous monster, and their rivals don't have the rights to capitalize on their character.
The Hollywood Reporter has learned that Toho, the Japanese company that owns the rights to Godzilla, has started a legal dispute with Voltage Pictures over Colossal, which has been described as Godzilla meets Being John Malkovich. Intrigued by that description? Of course you are. Anne Hathaway is due to star in the lead as a woman whose mind is connected to a giant lizard that's destroying Tokyo. I'm sold.
Unfortunately for Voltage Pictures and Hathaway, Toho is a little bit annoyed at the similarities between Colossal's monster and their character. According to a complaint that was filed in California on Tuesday, Colossal and the team behind the film "are brazenly producing, advertising, and selling an unauthorized Godzilla film of their own."
Those of you who might think that Toho have slightly overreacted in this situation might change your minds when you hear the first bit of evidence, which is a quote from the writer and director of Colossal, Nacho Vigalondo. Back in August 2014, Vigalondo stated of his script and the potential film
Toho has also taken umbrage with Voltage Pictures' recent promotional efforts for Colossal. On May 9th, Colossal's team sent out a mass email to potential investors and money-men ahead of their appearance at the Cannes Film Market, which even included a publicity still from the recent Godzilla reboot and various other images from Toho's back catalogue.
The complaint continues,
Aaron Moss and Chuck Shepahard, who work for Greenberg Glusker, the lawyers overseeing the case, were rather damning in their criticism of Voltage, stating that this was the most "brazen an act of infringement" they've ever come across.
This is all kind of a shame, because Colossal sounds like a really intriguing film - especially with Anne Hathaway attached. Fingers crossed the issue can be sorted out in a civil fashion, and we'll still get to see the film on the big screen at some point in the future. If not, we can still look forward to Godzilla 2.
Your Daily Blend of Entertainment News