Godzilla Is Getting Another Reboot, Here's The Latest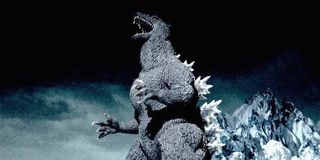 In the current age of sequels, remakes, and reboots, it shouldn't be surprising to learn that Toho Studios announced the Godzilla franchise will be getting yet another installment. This is not related to the Gareth Edwards remake starring Ken Watanabe, Elizabeth Olsen, and Bryan Cranston that hit theaters back in 2014, but is set to run concurrently alongside the British filmmaker's franchise.
According to Variety, Godzilla 2016 is set to be co-directed by well-known Japanese filmmakers Hideaki Anno and Shinji Higuchi, with Anno working up the script and Higuchi handling the VFX for the massive monster movie. Toho last produced a Godzilla film back in 2004, Godzilla: Final Wars, resulting in a dismal $12 million box office return. The company then licensed out remake rights to Warner Bros., who subsequently enlisted the above-mentioned Edwards and created a box office smash, earning over $525 million worldwide. Although Edwards currently has a sequel set for 2018, Toho will release Godzilla 2016 in, you guessed it, 2016. Toho made their excitement for the Japanese version of the monster pic known in a recent statement:
Here is the first image released of Toho's upcoming reboot.
Anno and Higuchi previously worked together on Giant God Warrior Appears in Tokyo, with Anno writing the script and Higuchi directing. Anno is an experienced animator who's most well-known directorial achievement is the anime series Neon Genesis Evangelion from the '90s, while Higuchi is known for his 2006 directorial effort, Japan Sinks.
It should be interesting to see two Godzilla worlds coexisting simultaneously over the next couple of years. However, with Warner Bros./Legendary's Gareth Edwards-directed Godzilla just having hit theaters last year, Toho's Godzilla 2016 coming next year, and Edwards' sequel, Godzilla 2, hitting theaters on June 8, 2018, things may start to get clouded and crowded. Could it lead us to a monstrous American vs. Japanese Godzilla showdown? I think there's some potential.
I don't know about you, but I think a Godzilla on Godzilla pic could be very cool. It almost seems, as global filmmaking continues to move front and center, that this may even be inevitable.
Your Daily Blend of Entertainment News
Thank you for signing up to CinemaBlend. You will receive a verification email shortly.
There was a problem. Please refresh the page and try again.