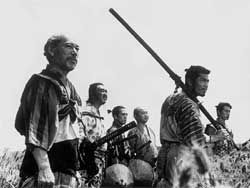 The Weinstein Co. is set to remake Akira Kurosawa's seminal Seven Samurai, which will start shooting in the fourth quarter for a 2009 release, according to Variety.
You can try to tell yourself it's not upsetting. Hell, The Magnificent Seven and a Cartoon series has already done it, but there are so many things wrong with the idea of a Seven Samurai remake that I wouldn't even know where to start. If you've seen and enjoyed the film, then you'll know what I'm talking about. If you've never heard of it, see it. And if it bored you, then maybe you're the reason for this big-budget remake with a cast of American, European and Asian stars.
In addition to doing a Seven Samurai remake, Weinstein is working on Shanghai. It's a period piece set in the 1940s about an American who returns to Shanghai in the months before Pearl Harbor, and it's also a high profile movie being made on the Weinstein Co.'s Asian Film Fund. Shooting will begin in May for a Christmas Day release in North America.
Those two films "highlight our commitment to providing international filmmakers with a global platform and will blaze the trail for high-quality, action-packed, Asian-themed adventures," according to Harvey Weinstein.
Seven Samurai described as an action-packed, Asian-themed adventure? Kill me.
Your Daily Blend of Entertainment News
Thank you for signing up to CinemaBlend. You will receive a verification email shortly.
There was a problem. Please refresh the page and try again.