Another Treasure Island Film Moves Forward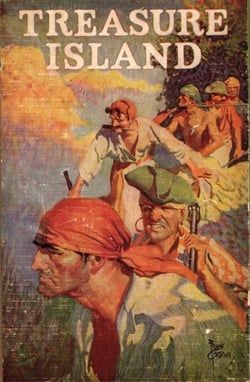 The film industry is already full to the brim with stiff competition, but apparently there's plenty of room to up one's game. The term 'dog eat dog' is commonly associated with Hollywood and in this case it's more like 'dog eat evil twin brother dog a la Jet Li's The One'. A Treasure Island redo has just sailed into the fray with producer Lionel Wigram steering the ship for Warner Bros. The other dog in question is a similar project being worked on over at Ecosse, a UK production company.
This sounds like just standard competition until you factor in that Mr. Wigram just produced Sherlock Holmes which quickly muscled a competing project starring Will Ferrell and Sacha Cohen out of the pool (which is 100% fine by me). And on top of that, Wigram is behind an update of the classic Alexandre Dumas novel The Three Musketeers, hoping to get his project on its feet before the same project moves forward at Summit. It may sound like this so-called Lionel Wigram is a bully, but according to Pajiba, there's been a script ready for Treasure Island at Warner for some time now, whereas Ecosse has just hired a screenwriter. So really, Wigram is just trying make sure their script doesn't go to waste.
Adding Treasure to his list of upcomings makes three pieces of classic literature that Wigram has produced or will be producing in the near future so it sounds to me like he's trying to get himself a corner of the market, plant his feet and not go anywhere for a few years.
Details are being kept under deep wraps (don't need anyone stealing ideas from one another) but we'll keep you updated once we find out exactly what Warner has in store for us with Treasure Island and The Three Musketeers.
Your Daily Blend of Entertainment News