Ant-Man Adds Dark Knight Actor David Dastmalchian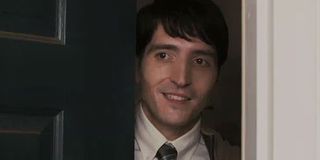 DC and Marvel movies are crossing streams again. Actors are still working people, so whenever fans proudly proclaim their devotion to DC or scream, "Make mine Marvel!", the fact is most actors are just trying to get by, and only care about a cozy job. Which is why you might see next year's Ant-Man and suddenly recall memories of The Dark Knight.
Deadline reports that David Dastmalchian has been added to the cast of Ant-Man. The actor previously played the nutcase employed by the Joker to "assassinate" Jim Gordon during the Mayor's funeral, though he's had an active career since then. Ant-Man is still keeping character details under wraps. When they previously kept quiet about who actors like Corey Stoll and Patrick Wilson were playing, it seemed due to the movie being under a veil of secrecy. But with Adam McKay being brought on to do a last-minute script polish, it also seems possible that some characters and plot details remained fluid.
The Dark Knight was actually Dastmalchian's first film role. Since then he's carved out a niche playing dangerous, wild-eyed loners in films like The Life Before Her Eyes and last year's Prisoners, where director Denis Villeneuve knew a couple of properly-contained shots of him could portend suburban menace. His recent film was the SXSW hit Animals, which he wrote and starred in, taking home the festival prize for Courage In Filmmaking. Here's a trailer, which features a bit of hard-to-watch drug use.
Dastmalchian joins the growing ranks of actors who have played characters in both DC and Marvel films. Before he was Magneto, Michael Fassbender entered DC's wild west in Jonah Hex.
Natalie Portman was Jane Foster of Thor and Hugo Weaving was the menacing Red Skull in Captain America: The First Avengers. But earlier, they took a trip to the DC universe in V For Vendetta.
Tommy Lee Jones was said to be slumming it in Captain America, but he looked miserable in the film probably because he remembered the first time he did the comic book two-step in DC's Batman Forever.
And Ryan Reynolds earned his muscle working with Marvel on both Blade: Trinity and X-Men Origins: Wolverine. Neither was very good, but neither helped us erase the moment Reynolds crossed over to DC.
On second thought, maybe this whole "crossing streams" business isn't the best idea.
Your Daily Blend of Entertainment News
Thank you for signing up to CinemaBlend. You will receive a verification email shortly.
There was a problem. Please refresh the page and try again.