Ant-Man Blu-Ray Trailer Has Outtakes, Deleted Scenes And More Michael Pena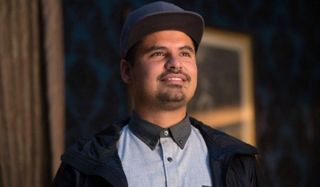 Those of you who watched Ant-Man this summer will be more than aware of how much Michael Pena stole the show. In pretty much every scene he featured, he immediately made viewers chortle. If you have been pining for more Pena, you are in luck, because the Blu-ray trailer for Ant-Man features the actor reprising the role of Luis, as well as outtakes and deleted scenes. In fact, don't just take my word for it, have a gander at the trailer for yourself below.
Even though he's an ex-con that still dabbles in crime, I'd trust Luis with everything I own. He's just that gosh darn loveable. Which is why the above trailer, shared by USA Today, which features Michael Pena in character as Luis describing all of the wonders that are included in the package through a majestic voiceover, is simply divine.
I mean, how could you not love his description as the titular, diminutive character as "Dr Phil for ants"? But, even though Michael Pena owned the above trailer, what will the Blu-ray and home releases actually feature?
Well, your usual fare. There's an audio commentary from both Peyton Reed and Paul Rudd, some featurettes about the making-of and how Marvel and their very talented visual effects crew managed to make their titular character so teeny tiny, as well as some deleted scenes, and a gag-reel that not only shows Paul Rudd doing some rather delightful dancing, but also features him celebrating landing at the bottom of the stairs a little bit too enthusiastically.
Meanwhile, Pena also insists that the Blu-ray will help to explain how director Peyton Reed and screenwriter Adam McKay were able to merge together Luis and his fellow "super-fly, super-handsome crew of delightful gentlemen." Those of you who are eager to see more of Michael Pena providing comic-relief in a glorious fashion don't have to wait until Ant-Man is released on Blu-ray to get your fix though. That's because he also does just that in The Martian too, sparring with the likes of Matt Damon, Sebastian Stan, Kate Mara, and Jessica Chastain throughout Ridley Scott's deep space adventure. He's probably just a little bit funnier in Ant-Man than he is in The Martian, but that's mainly because he has more screen time.
Of course, Michael Pena is expected to return as Luis in the now confirmed Ant-Man sequel, Ant-Man And The Wasp, which is due out in summer 2018. And while Paul Rudd and Evangeline Lily's characters are both eponymous, we all know that we're really going to watch the blockbuster just to see more Michael Pena. I mean, if he doesn't get a fully blown spin-off or one-shot in the very near future, then Marvel is making a huge mistake.
Your Daily Blend of Entertainment News