Ant-Man Could Lead To A Hank Pym Prequel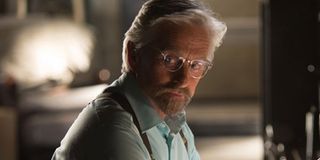 Paul Rudd will soon be suiting up and shrinking down for his Marvel debut in Ant-Man as thief-turned-hero Scott Lang. However, questions have arisen regarding the role of Lang's mentor, Dr. Hank Pym (played by Michael Douglas), who developed the film's shrinkable heroic technology. With Pym being the comic book canon's original Ant-Man, a hint has been dropped that we could see a Pym-centric prequel.
In an interview with ComicBook.com, Ant-Man director Peyton Reed discusses the idea of tackling follow-up films. While he by no means confirms anything, he does express his willingness to tackle a prospective prequel project following the exploits of a younger Hank Pym and the development of his signature protean equipment. According to Reed:
Clearly, Reed is taking cues from Marvel Studio's big brass like Kevin Feige in not wanting to count their Ant-Man chickens before they hatch. Like any venture from the studio that serves to chart both a canonical and thematic course for the established cinematic universe like Thor in 2011 or Guardians of the Galaxy in 2014, this film is a rather risky offering from a genre perspective. Indeed, the apparent tonal eccentricity of Ant-Man, mixing serious themes with tongue-in-cheek humor, seemed to be a difficult dynamic to master and even resulted in a creative shake-up that saw Edgar Wright vacate the director's chair after being attached for the better part of a decade. Thus, the sequel/prequel talk is understandably still very much loose.
However, in what could be interpreted as a positive sign, Reed seems to be satisfied with the project from a personal standpoint. Utilizing the Scott Lang version of Ant-Man, relegating the original in Hank Pym to the role as an aged mentor, the script, collectively constructed over the years by names such as Adam McKay and star, Paul Rudd, himself, manages to showcase its heart as a redemption tale for the larcenous louse, Lang with an ailing young daughter, who desperately wants to the right thing. His call to greatness comes at the behest of Michael Douglas' Pym, who provides him the means to implement his seedy skills for a calling that is actually righteous. Yet, if Lang's story resonates enough with movie-going audiences, then the curiosity for Pym's story will surely be potent enough to warrant the prequel.
Should Marvel get around to making the Pym-centric prequel, it's possible that we could be in for a dramatic piece inspired by one of Marvel's more bizarre heroes. Over the years, Marvel has depicted Pym as basically good man who also happens to be unstable mentally, manifesting multiple personalities that, coupled with his shrinking/growth abilities has wreaked plenty of havoc. Plus, the tumultuous marriage to Janet Van Dyne, aka The Wasp, also well-documented in the source material, would be an especially powerful angle considering that their daughter, Hope Van Dyne is a major player in Ant-Man, played by Evangeline Lilly.
While the prequel prospects are still very much up in the air, Marvel will look to make another new cinematic comic book A-lister when Ant-Man stealthily shrinks its way to theaters on July 17.
Your Daily Blend of Entertainment News