Watch Ant-Man Shrink For The First Time In Extended Marvel Movie Clip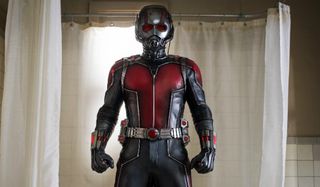 We've seen the trailers. We've seen the posters. Now it's time for the onslaught of Ant-Man clips to begin, and the first is a juicy morsel. Discovering one's superpowers is not always the most seamless process, but Scott Lang's introduction is a trial by water. Watch him shrink down to ant size in the first extended clip from the upcoming Marvel movie.
We've seen bits of Ant-Man and even went to the set to check out the action first hand. But now we can show you just how different of a superhero movie this will be with this new footage. Ant-Man introduces audiences to career criminal Scott Lang. Portrayed by funny man Paul Rudd, this guy is a reformed master thief who was enlisted by Hank Pym (the original Ant-Man, played by Michael Douglas) to steal back his size-shrinking technology from the wrong hands. Now donning the Ant-Man suit in the clip, which was released online by Marvel, Lang is slowing figuring out his abilities, for better or worse.
Here we see an example of Lang's signature ability, but we also get a sense of his durability. As we've heard countless times in the trailers, the suit offers the wearer superhuman strength when shrunk. That's why Lang is able to fall out of the tub and onto the tiled floor -- which, for his size, is like falling out of a building -- and emerge with only a damaged ego. It doesn't help, though, that Pym's voice is resounding through Lang's head as he's testing the extent of the suit.
Ant-Man also features Evangeline Lilly as Hope van Dyne (who we now know will make her Wasp-y debut in the film), Corey Stoll as the villain Darren Cross/Yellowjacket, as well as supporting characters played by Michael Pena (who we see in the clip), T.I. and Bobby Cannavale. Cross used to be Pym's former compatriot, but he became overcome by greed and envy when he discovered Pym was hiding his Ant-Man suit from him. To get revenge, he stole the technology and made a new suit, which he calls The Yellowjacket, and intends to mass produce for the highest bidder. (The 10 Rings terrorist organization may be one of these prospective buyers.) That's why Lang has to step in to steal back the suit, battle Cross, and become the Ant-Man.
Ant-Man will open in theaters on July 17, but Rudd will reprise his role shortly after in Captain America: Civil War, which opens on May 6, 2016. The actor is already busy filming scenes with his fellow co-stars Chris Evans, Robert Downey Jr., Elizabeth Olsen, Jeremy Renner, Scarlett Johansson, Anthony Mackie, Don Cheadle and a truckload of other Marvel stars. In addition, there are said to be ties, if only in style, between Ant-Man and Doctor Strange. While we won't spoil the specific details here, keep an eye on the ending.
Your Daily Blend of Entertainment News