Watch Ant-Man Get Fired In This New International Trailer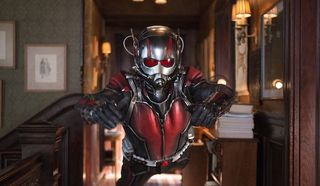 Most of us have regular jobs we go to every day, and some of us are lucky enough to turn hobbies we enjoy into careers that (most of the time) pay the bills. Superheroes are no different. They're not all lucky enough to be born into wealth like Tony Stark or Bruce Wayne, and, like us, most of them have worked some pretty crappy gigs, including Marvel's latest addition. Watch Paul Rudd get fired from his job at Baskin-Robbins in this new international Ant-Man trailer.
There's a bunch of new footage in this international trailer, but overall the emphasis in on definitely on the importance of family in this story. Paul Rudd's Scott Lang is a reformed master thief trying to go straight, with an estranged wife (Judy Greer) and young daughter he wants to take care of. The Baskin-Robbins job appears to be his attempt to stay on the straight and narrow and keep his nose clean, though as you can see with him breaking into a safe, that likely won't last long.
This trailer also adds a bit of clarification to Ant-Man plot as we know it. 40 years ago Hank Pym (Michael Douglas) created the technology to allow users to shrink in size while increasing in strength. His assistant Darren Cross (Corey Stoll), also known as Yellowjacket from time to time, is obsessed with recreating Pym's work. But because he's an evil dickweed, he plans to weaponize it and use it for, you know, evil. It's up to Scott to steal this tech to make sure it doesn't fall into the wrong hand and cause irreparable damage to the world ad we know it. No pressure or anything.
Scott's mission to swipe the Yellowjacket suit also ties into his desire to be a good father. As you hear throughout here, he's trying to become the man his daughter already thinks he is, a good man, a hero. And from what we know, he's probably going to at least partially succeed in this mission.
But don't worry if this all sounds like a family drama. There's plenty of action to be had in this trailer as well. It's going to be fun to see Ant-Man and Yellowjacket flipping around, changing from big to small, brawling all over the place. And we've seen it before, but it's hard not to love that bit where they find themselves on those toy train tracks.
Ant-Man staged its first screenings last night, and while early reactions were somewhat mixed, they tended to skew towards the positive, which is what we wanted to hear closing out Phase 2 of Marvel's Cinematic Universe. Most of us weren't able to attend the screenings, but we only have a few weeks to wait to see Ant-Man when it opens on July 17.
Your Daily Blend of Entertainment News