Ant-Man Director Peyton Reed Almost Directed Guardians Of The Galaxy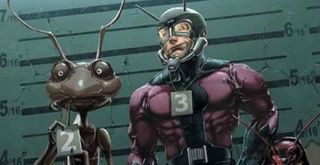 In spite of the chaos that seems to surround Marvel's Ant-Man , the fact is the studio is still batting a thousand. They have one of the year's biggest hits in Captain America: The Winter Soldier; there are high hopes for Guardians Of The Galaxy (tracking at high $60 million, close to the original Thor); and next year's biggest summer movie is sure to be The Avengers: Age Of Ultron. But if your worries persisted, just know that Peyton Reed, the new Ant-Man, actually wasn't some last-minute desperation hire. No - to hear it from Kevin Feige, much like Nick Fury and S.H.I.E.L.D., Feige has had his eye on Reed for a very long time.
In an interview with IGN , Feige reveals that Reed was actually one of the director candidates in the running to head up production on the Guardians Of The Galaxy. Said the Marvel Studios President,
Feige also confirms what we've known, which is that Reed was indeed attached to an earlier incarnation of Fantastic Four before Tim Story jumped onto the project years ago. So while Edgar Wright had been attached to Ant-Man for almost a decade, the relationship between Feige and Reed goes even futher back. Let this be a lesson, job-seekers: never burn any bridges with potential employers. In a decade, they just might call you to direct Ant-Man!
Going further in the interview, Feige explained how his relationship with the filmmaker allowed the two of them to be on the same page when discussing Ant-Man
Those are very generous words for a movie that reportedly has eight hundred writers, but Feige is nothing if not an excellent salesman. Ant-Man opens July 17th, 2015.