Ant-Man Has Quietly Made A Really Solid Amount Of Money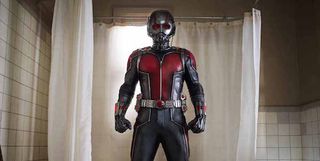 Although Ant-Man earned solid reviews at the box office this summer, its performance in the U.S. didn't exactly make any splashes commercially. Fortunately, the tiny superhero's movie has still been making strides hauling in the big bucks overseas, and that's helped it significantly. Over three months after its release, it's slowly on its way to earning $500 million across the globe.
Box Office Mojo crunched the numbers, and at the time of this writing, Ant-Man has brought in a little over $179 million domestically and nearly $315 million globally. That adds up to a worldwide gross of almost $494 million. So while it didn't get a lot of love in the States, once again this goes to show how moviegoers overseas can turn the tide of how well a movie performs (I'm looking at you, Terminator Genisys). Ant-Man's opening in China last week helped significantly with these earnings, drawing in over $43 million during its first three days in theaters. This made it the second biggest release for a Marvel and Disney movie, which Avengers: Age of Ultron set earlier in the year with $155 million.
In terms of total domestic gross, Ant-Man is the third lowest ranking movie in the Marvel Cinematic Universe, leading only ahead of Captain America: The First Avenger and The Incredible Hulk. Still when you consider that it was made on a $130 million budget, that's still an impressive haul. Besides, Avengers: Age of Ultron has grossed over $1 billion since May, so the studio can afford to have a more lenient outlook with how much green Ant-Man brought in.
Regardless, Marvel is clearly pleased with how the movie performed, as they announced several weeks ago that a sequel is on the way for 2018. Titled Ant-Man and the Wasp, it will feature Paul Rudd's Scott Lang teaming up in the field with Evangeline Lilly's Hope van Dyne, who has finally inherited her mother's legacy and become The Wasp. So luckily for fans, there's a big cinematic future ahead for Marvel's tiniest crimefighters. Director Peyton Reed is currently in negotiations to return for the next movie, and no doubt they'll try to get stars like Michael Douglas and Michael Peña to return as well.
While Ant-Man has already made its way out of most U.S. theaters, you can look forward to its digital release on November 17 and the Blu-ray/DVD release on December 8. If you can't wait until 2018 to see Ant-Man again, not to worry. He'll return for Captain America: Civil War on May 6, 2016 alongside nearly every other hero in the MCU, and if we're lucky, maybe both Ant-Man and Wasp will be among the players in the Avengers: Infinity War movies later on.
Connoisseur of Marvel, DC, Star Wars, John Wick, MonsterVerse and Doctor Who lore. He's aware he looks like Harry Potter and Clark Kent.
Your Daily Blend of Entertainment News
Thank you for signing up to CinemaBlend. You will receive a verification email shortly.
There was a problem. Please refresh the page and try again.