Anthony Mackie Will Be Jimi Hendrix In Upcoming Biopic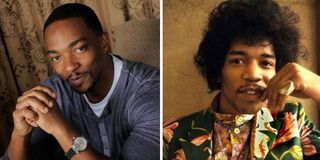 Anthony Mackie has been bulking up to co-star opposite seriously brawny men in Michael Bay's Pain & Gain and superhero hit Captain America: The Winter Soldier. But he'll need to slim down and get serious for his upcoming role, the iconic rock legend Jimi Hendrix.
Indiewire reports out of the Cannes Film Festival that Anthony Mackie is set to headline Jimi, a Jimi Hendrix biopic that will focus on the last nine days of the music icon's life. Thandie Newton will co-star in an unspecified role, and Noomi Rapace is in negotiations to portray Hendrix's girlfriend Kathy Etchingham.
Here's a side-by-side comparison of one Swedish actress next to the other:
The drama was written and will be directed by English filmmaker Ol Parker, who is best known for writing the screenplay for the winsome adaptation The Best Exotic Marigold Hotel. Parker made his directorial debut back in 2005 with the R-rated romantic comedy Imagine Me & You, which centered on the unexpected love that blossoms between a married (heterosexual) woman and a female friend. He followed this up in 2012 with the earnest romantic drama Now is Good, which starred Dakota Fanning as a leukemia-stricken girl who experiences first love with a dreamy boy played by Jeremy Irvine.
This project first surfaced four years ago as Crosstown Traffic. While Mackie was attached even then, Paul Greengrass of Captain Phillips acclaim was initially lined up to helm. However, the project ran into problems when the keepers of Hendrix's estate took issue with the screenplay's representation of the widely celebrated guitarist. Greengrass moved on, and Parker stepped up. These issues have since been resolved, and Jimi is expected to shoot in short order.
Of course, this isn't the only Jimi Hendrix movie making its way to theaters eventually. Writer-director John Ridley has crafted his own biopic based on the life of the gone-too-soon rock god, called Jimi: All Is By My Side. This one has Outkast's Andre "3000" Benjamin starring as Hendrix, Imogen Poots as Linda Keith and Captain America's Hayley Atwell as Kathy Etchingham.
Jimi: All Is By My Side is said to focus on the days before Hendrix achieved fame. Specifically, it will be set in the span of 1966 to 1967, where he was gigging around New York City nightclubs, then went to London to record his debut album Are You Experienced. This Hendrix biopic has played at the Toronto International Film Festival as well as SXSW, and cemented release dates for the UK, Ireland and the Netherlands. But no U.S. release date has yet been secured.
Basically, Jimi: All Is By My Side is making ripples, not waves, and so should prove no major disturbance for Anthony Mackie's Jimi.
Your Daily Blend of Entertainment News
Staff writer at CinemaBlend.