Antonio Banderas To Direct Akil, Starring Melanie Griffith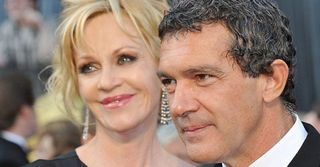 Antonio Banderas has been tearing it up in front of the camera lately. This year alone he's poised to hit theaters in five films, including Pedro Almodovàr's high-flying musical comedy I'm So Excited, Terrence Malick's mysterious Knight of Cups, and the recently wrapped Robert Rodriguez action flick Machete Kills. Perhaps needing a break from performing, or maybe inspired by all the big name filmmakers he's been working with over the past year, Banderas is looking to move behind the camera. And he's taking his long-time wife Melanie Griffith along for the ride.
Variety reports Banderas is prepping for production on Akil, a love story he's written, and will direct and produce. This will mark his third directorial effort, following the 1999 dramedy Crazy in Alabama and the 2006 Spanish-language romantic drama Summer Rain. And as she did in the former, Griffith will front her husband's film.
Named for its title character, Akil centers on an African boy who sails to Spain in a small boat. Once there, he eludes police and finds shelter in the home of an American woman (Griffith). From here, a platonic love will grow between the boy and his reluctant protector, which makes this movie sound a lot like Aki Kaurismäki's celebrated dramedy Le Havre. That film was set in France, but also focused on an African refugee seeking sanctuary from an older stranger, in that case a cantankerous shoe shiner. There's no mention made of Le Havre in Variety's report, so it's unclear if Akil is intended as a remake or just features a very similar premise.
Banderas will be self-financing his latest directorial effort, which he describes as "a love story between two completely different people -- in age, attitude, religion, wealth -- who end up being essential to each other."
Akil will shoot as soon as Banderas can wedge it into his schedule. He's currently committed to star in the Pablo Picasso docudrama 33 Days as well as Gabe Ibanez's Automata, which is slated to roll into production at the end of April. Plus, he might be a part of the cast of The 33, a drama based on the incredible tale of the 33 Chilean miners who survived being trapped underground for 69 days.
Your Daily Blend of Entertainment News
Staff writer at CinemaBlend.