Arnold Schwarzenegger's Kindergarten Cop Being Remade With Major Changes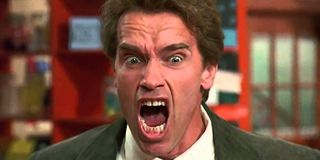 Apparently someone over Universal felt that there's demand for a remake of Arnold Schwarzenegger's 1990 comedy, Kindergarten Cop. As astounding or unsurprising at it sounds, the project is apparently in the works. However, there will reportedly be some key changes to the cast dynamic in the new project.
According to a report from Showbiz 411, the 1440 division of Universal Studios is looking to revisit the Ivan Reitman-directed classic comedy in which a badass cop takes an undercover assignment overseeing an unruly array of pre-grade-school progenies. However, this time around, the hilariously awkward plot points will carry on with a non-Schwarzenegger leading man, said to be aided by an Indian sidekick named Sanjit.
The film will be directed by Don Michael Paul, a regular helmer of straight-to-DVD sequels such as Sniper: Legacy, Jarhead 2: Field of Fire, and the upcoming Tremors 5: Bloodline. Interestingly enough, the report also implies that the project, as it momentarily stands, could be used as a stalking horse (test concept) for what might ultimately manifest as a television series. In fact, Universal's 1440 division is known for its array of remakes, which tend to find their home in the VOD medium. Thus, there is more than a distinct possibility that this project, while still calling itself a remake "film," could ultimately become something entirely different.
The report also briefly describes elements of the script by David H. Steinberg, who wrote the American Pie sequels. It seems that our yet-to-be-described, non-Arnold protagonist is searching for a crucial missing flash drive that's somehow connected to the Federal Witness Protection Program, all while dealing with Albanian baddies. In what will likely be the result of circumstances that cross the lines of credulity, said flash drive winds up in a kindergarten class. (Almost as dangerous as putting the files on the Cloud.) At this point, I won't even dare to venture a guess as to why a flash drive getting misplaced in a kindergarten class requires an intricate undercover operation involving young children, but nevertheless, there it is.
By comparison, as seen in the above video, the original film portrayed Schwarzenegger's hard-nosed LAPD detective, John Kimble, and his partner, Phoebe O'Hara (Pamela Reed), enacting an intricate undercover operation to catch an elusive drug kingpin, Cullen Crisp (Richard Tyson). The plan was to embed O'Hara into the sleepy, affluent Oregon town where Crisp's ex-wife, Joyce (Penelope Ann Miller), and son, Dominic (Joseph Cousins and Christian Cousins), were relocated. However, O'Hara falls ill and it's up to Kimball to awkwardly pose as a substitute teacher for Dominic's kindergarten class while continuing the investigation.
With some of the aforementioned updates, Kindergarten Cop could be intriguing fodder for a slow-burn unraveling on a television series. The likelihood of such a scenario was supplemented in the report, which claims that producers are looking for "cross over names from TV." Yet, whether this project becomes a film or television series, the specter of Schwarzenegger will be a difficult shadow under which to work, regardless of how well put-together it might be. It's enough to give one a headache that's assuredly "not a tumor."
Your Daily Blend of Entertainment News