Arthur Set Visit Interview: Greta Gerwig Encounters The Angry New Yorkers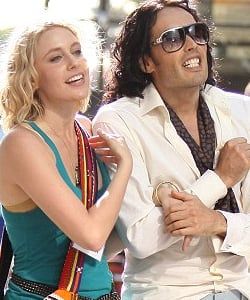 When Kelly West got the chance to visit the New York set of the Arthur remake and witness them shoot a scene between Russell Brand and Greta Gerwig, she also got a chance to interview Brand and the director Jason Winer. (You can read the Brand interview here and the Winer interview here). But we had to wait a little longer to catch up with Gerwig, and when the opportunity came to talk to her on the phone, I stepped in for Kelly to lob a few questions at the up-and-coming actress.
After making her name in small indies like Hannah Takes The Stairs Gerwig broke out big time in last year's Greenberg, which led to her snagging the lead role of Linda in Arthur, a remake of the 1980 Dudley Moore film. Brand is stepping into Moore's role as a carefree, careless playboy, while Gerwig reprises a part originated by Liza Minnelli, a working-class girl whom Arthur falls for despite himself. In the scene they witnessed on the set, Arthur and Linda walk through Central Park as a kind of first date. We asked Gerwig about the transition from indies to studio movies, her rapport with Russell Brand, and how she's treating the legacy of Liza Minnelli in the role. Look for Arthur in theaters on April 8.
Before every take you and Russell Brand were goofing off, singing Lena Horne and trying to keep the momentum going. Is it kind of hard when the takes take a long time to keep the energy up?
Well, no. I think Russell is kind of a live wire of energy and very infectious to everyone around him. What we heard more of was the director saying, "Settle. Settle," because we would start laughing or we'd start joking around and then we'd kind of lose where we were in the scene. So I think it was more of a struggle to keep the energies focused rather than keep the energy up.
Did he play pranks on you?
He didn't play pranks, but he did make fun of me a lot.
Really? Like how so?
Oh, he started this game where I'd say something and he'd say, "Greta Gerwig – undateable," which was his favorite thing to do. But he lovingly teases everyone, so it wasn't cruel. It's really funny. But you have to have thick skin.
So you and Russell seemed to have great chemistry. Did you guys hit it off – right off the bat? And what was your first impression of him?
I met Russell while I was auditioning for Arthur, and it was one of those auditions that felt like playing, not performing. It just felt like I went in and we had this great script written by Peter Baynham, and then they let us improv. And it just felt like I had a half an hour of playing with the funniest person I've ever met. So I instantly wanted to do it very badly, but it also felt so effortless, in a way, and I think that that's really a gift on a film like this.
Are you a fan of the original film, and, if so, do you feel an extra, added amount of pressure to live up to that classic comedy?
Yes, I was. I wasn't actually born when the original was made, but it was one of the first movies that was shown on HBO all the time, and I never saw the whole thing because we didn't have HBO, but friends of mine had HBO. So I had this memory of bits and pieces of the film scattered throughout my childhood. But I really loved it. I think that there's an incredible sweetness to it, and Dudley Moore and Liza Minnelli are so wonderful and odd together. And I think that I do feel pressure. It's beloved by so many people.
But, that being said, I think everyone was really trying to make it their own and looking at what's different about making a film about an alcoholic playboy in 2010 versus 1980. So I think we did improve some things, and I'm sure that we made it different, and it will be up to other people to decide whether or not they like it better or worse.
On a similar note, what did you take from Liza Minnelli's performance in that? Is the character somewhat different or have you kind of taken cues from her?
I think that what Liza Minnelli is as an actress, both in this film and all of her films and her stage work and her singing, is that she's such an individual that I think it would be a mistake to try to imitate it in any way, but to kind of get yourself fully behind yourself, and be who you are and be confident about it, even if it means wearing a weird cowboy hat and a yellow slicker in the first scene, or a very, very pink pantsuit-- she wears is so incredible as well.
What sorts of strange things have happened shooting in the city? Because, simply, given that New York's a great place to shoot, there's just a lot of bizarre things that can happen, and some people don't even care that you're filming.
Right. Well, when we were shooting at Grand Central, both outside Grand Central and in Grand Central, there were a number of angry commuters from New York who yelled at us, which is always kind of great. They don't care. They don't care who you are, what you're doing. All they know is you're there, you're messing up their day, and I liked that.
I mean, of course, there are people who stand and gawk, but mostly there are people who are like, "What the hell is going on here?" and would get in your face, which is really fun. I live in New York, and I went to college here, so I've been here eight years and I think it was magical to shoot here. I got to shoot on an MTA New York City bus, going over the Queensboro Bridge, which I've done before, but, this time, I'm doing it with a camera crew and all these fancy lights and I'm in a movie. It was really exciting.
What's the transition been like for you moving from smaller mumblecore films to studio movies like this and Greenberg?
The transition from tiny movies to less tiny movies to really big movies has been actually quite seamless in a lot of ways as far as my experience of acting in them. I think what's lucky is you don't get cast in things that you're not right for and when they don't find something interesting about you. The people that will cast you are interested in making some kind of movie.
So I didn't feel like I was being hired under false pretenses, that they thought I was somebody else. And I think that the spirit of Russell being a very strong individual and Helen Mirren, obviously, and Luis Guzman and Nick Nolte and Jennifer Garner as well, is that they really took everyone and allowed them to do what they wanted.
Jason Winer, Peter Baynham and all the producers really guided the tone of the movie and the performances, but it was an incredibly supportive and free environment. It didn't feel like I was in a studio machine. It felt like I was working with an incredibly talented group of people who wanted everyone to just be doing their best on their own terms. And I think that's just a larger version of what I've been experiencing before.
Staff Writer at CinemaBlend
Your Daily Blend of Entertainment News
Thank you for signing up to CinemaBlend. You will receive a verification email shortly.
There was a problem. Please refresh the page and try again.