Ashton Kutcher Gets Naked In The No Strings Attached Red Band Trailer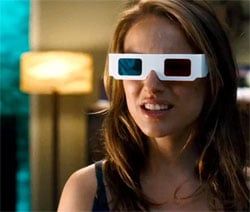 No Strings Attached is the first of two different romantic comedies being released this year about best friends who decide to have sex without emotional involvement. The other one, called Friends with Benefits, stars Justin Timberlake and Mila Kunis. It won't be out until July. This one stars Ashton Kutcher and Natalie Portman, and it's in theaters this month on the 21st. It's also, apparently, very rated-R.
Paramount has just released the first red band trailer for the movie and, unlike a lot of movies which release red band trailers just so they can say "shit" once, this teaser actually takes advantage of the format. It's filled with all sorts of cleverly crafted, adult-themed dialogue, more than a few shots of scantily clad women in their underwear, and a huge close up shot of a very naked Ashton Kutcher ass. It's the trailer you've been waiting for ladies, unfortunately for the man in your life, we don't get so much as a glimpse of Natalie Portman sideboob.
Here's the new Red Band trailer for No Strings Attached.
While the green band trailer for this movie never quite hooked me, the red band version sort of does. I'm still not entirely sold on the concept, or on the general existence of Ashton Kutcher; but you can sort of see why someone like Natalie Portman, who basically has her pick of projects, might choose to do it. For me the dialogue in particular works well in this trailer; it's fast paced, adult, and complex. There's potentially great work here from first screenwriter Elizabeth Meriwether.
Here's the original green band trailer for comparison:
For more in No Strings Attached visit our dedicated page in the Blend Film Database.
Your Daily Blend of Entertainment News