Ashton Kutcher May Be Back For Valentine's Day 2, New Year's Eve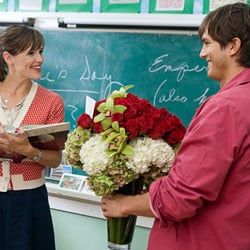 Everyone can breathe a huge sign of relief: Ashton Kutcher may return for the Valentine's Day sequel, New Year's Eve. If Kutcher wasn't on board, I might have to pass on New Year's Eve entirely! While I hope you can detect my sarcasm, I'll also tell you that Moviehole got the details straight from the man himself and as of right now, New Year's Eve is a maybe for Kutcher.
While promoting Killers, which doesn't hit theaters in Australia until next week, Kutcher explained, "They've talked to me about it." He added, "But I haven't read the script yet ... It's script dependent." It's nice to hear that he's concerned about the quality of the writing, but I wonder if he took the same approach to the first film. I'm actually not a Valentine's Day hater like most critics out there, but still can't deny that it was a star-powered piece devoid of quality.
Apparently when you pack a film with pretty and famous faces, you can stuff in all of the romantic comedy clichés in the world and people will still see it, because Valentine's Day earned a nice $213 million worldwide. But questions about the sequel remain: who will they get to return and will audiences want to see the continued stories of the same character? I don't quite see how the whole different-people-whose-lives-cross-paths thing can work again, but perhaps just hanging on to one couple like Kutcher's character (Reed the flower man), and his lady, (Jennifer Garner's elementary school teacher Julia), could be enough. There's a ton of untapped Hollywood A-listers out there ripe for being suckered into the sequel to put a fresh cast together.
Your Daily Blend of Entertainment News
Staff Writer for CinemaBlend.