Aubrey Plaza And John C. Reilly To Star In Zombie Comedy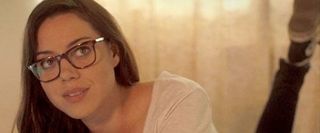 This year Parks and Recreation's sulking beauty Aubrey Plaza made strides toward becoming a leading lady in film with her starring role in the quirky indie romance Safety Not Guaranteed. There she played into the cynical twenty-something niche she's been known for, before attempting to turn the clichéd character on its head when her snarky heroine falls for a guileless dreamer who believes he can time travel. The film won praise out of Sundance, and now that it's headed overseas, Plaza's doing more press and revealing details on an intriguing new project.
Speaking with the U.K.'s Guardian, Plaza dished that she and John C. Reilly would be co-starring in a new comedy called Life After Beth. She was reluctant to share too many details, but confessed it would involve zombies and is "a really fucked-up movie." Plaza has close personal ties to this zombie comedy's screenwriter Jeff Baena. Best-known for co-writing the philosophical comedy I Heart Huckabees, Baena is Plaza's live-in boyfriend, and will make his directorial debut on Life After Beth. The film will also mark the first time Plaza and Reilly have worked together on screen.
It's unclear when Life After Beth might roll into production. For now, Plaza is in production on another directorial debut, Justin Reardon's A Many Splintered Thing. Featuring Chris Evans, Topher Grace, and Anthony Mackie, the movie is expected to be one of three Plaza comedies that will hit theaters in 2013. The others are the Shia LaBeaouf-fronted action-comedy The Necessary Death of Charlie Countryman and the sex comedy The To Do List, which stars Plaza as a virgin looking to gain experience before going to college. The latter will open on August 16th.
Staff writer at CinemaBlend.
Your Daily Blend of Entertainment News
Thank you for signing up to CinemaBlend. You will receive a verification email shortly.
There was a problem. Please refresh the page and try again.