Audio Blog: Are The Oscars Even Worth It?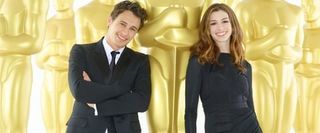 At long last, the Oscars are finally happening on Sunday, meaning we can stop talking about the movies of 2010, stop debating whether The King's Speech is Oscar bait or just a damn good movie, and move on with our lives for Christ's sake. Of course for some people, even people who will be watching the Oscars on Sunday, the awards are just a distraction from actually good movies, or worst-case scenario, actually harmful to the movie industry we all love. Rather than just being a good time where people get to dress up and congratulate themselves, the Oscars set up arbitrary and rigged definition of "Best ____" and lessen us all in the process.
For my latest podcast get-together with the usual crowd, we had two Oscar-haters-- Dave Gonzales and David Ehrlich-- take on two people who wanted to defend them-- Matt Patches and myself. The conversation you can listen to below is very much cobbled together, thanks to a series of technical difficulties and the usual rambling. But if you've been trying to figure out whether or not you can both enjoy the Oscars and resent them for their hollowness, or if you've been trying to convince your friends to watch them, our rambling is well worth a listen.
As always, chime in to let us know what liked hearing and what you'd like to hear more of in the future; you can also find Dave (@da7e), David (@davidehrlich or @CriterionCorner), Matt (@misterpatches) and me (@kateyrich) on Twitter. Keep checking back-- there's more where this came from! And we promise not to talk about the Oscars again until the fall.
Download the file directly here (right-click and save-as)
Staff Writer at CinemaBlend
Your Daily Blend of Entertainment News
Thank you for signing up to CinemaBlend. You will receive a verification email shortly.
There was a problem. Please refresh the page and try again.