Avengers: Age Of Ultron Is Going To Open To Huge Numbers In Foreign Markets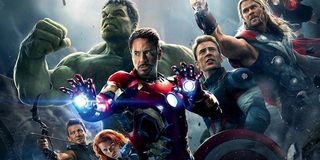 We know Avengers: Age of Ultron is going to be a massive hit. It's already tracking to earn more than $200 million in the U.S. during its first weekend, but by the time that happens, it should already have a sizeable chunk of change in the bank. The movie opens this weekend in many international markets, and is on pace to put up gargantuan numbers outside of North America as well.
According to Variety's sources, Age of Ultron will earn between $160 million and $175 million this weekend, just this weekend, from international theaters. It's rolling out in countries like the U.K., France, Russia, Italy, and Korea, and it will hit more than half of the world's markets before touching down on U.S. shores.
Back in 2012, The Avengers set records by grossing $207.4 million dollars during it's initial domestic weekend, on its way towards eclipsing the billion dollar mark. If predictions hold, Avengers: Age of Ultron could very well top that debut, which would certainly be one hell of an impressive feat. To put this in perspective, Furious 7, which recently became the fastest ever movie to earn $1 billion at the box office, scored $147 million its first weekend. We've never seen a group of assembled superheroes quite like this, and it's also possible we may see something we've never seen at the box office as well.
In Avengers: Age of Ultron, Tony Stark, a.k.a. Iron Man, tries to create a "suit of armor around the world," a global defense system, and as you may imagine, it doesn't particularly well. In fact, it goes horribly wrong, and the result is Ultron, an artificially intelligent automaton with aims to destroy the world. That's never good, and the Earth's Mightiest Heroes must come together, amidst growing discord within the group, to face off against their deadliest enemy to date.
However Avengers: Age of Ultron performs at the box office, it's not going to have much competition. Age of Adeline is the only wide release this weekend, and even with Paul Blart: Mall Cop 2 turning in decent numbers, it seems likely Furious 7 will likely win the race again this weekend as studios give the latest Marvel behemoth a wide berth.
Following on the heels of Guardians of the Galaxy and Captain America: Winter Soldier from last year, both big hits in their own right, if Avengers: Age of Ultron somehow magically doesn't cross the billion-dollar plane, it feels like it will somehow have underperformed. Which is a little crazy. The movie opens in the U.S. May 1, and hits many international markets this weekend.
Your Daily Blend of Entertainment News
Thank you for signing up to CinemaBlend. You will receive a verification email shortly.
There was a problem. Please refresh the page and try again.