Furious 7 Just Raced Past Two Massive Milestones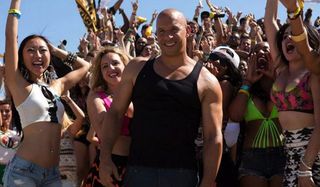 In case you might have missed this continuing narrative, Furious 7 is apparently doing a little more than well at the box office. In fact, it continues to do phenomenally, as evidenced by the fact that the film crossed the $1 billion mark this past weekend, becoming the first film in Universal Studios history to achieve said mark. Additionally, this high-octane accolade also comes with another achievement, since it has distinguished itself as the quickest film to have ever accomplished this feat, only having been released a bit over two weeks ago.
Universal Studios, the distributor of James Wan's Furious 7, heralded the inevitable, magnificent milestone of crossing the billion dollar mark before the start of this past weekend, which would see a third week dominant performance over newcomers to remain on the top spot. However, appropriate to the souped-up muscle cars ubiquitously featured in the film franchise, Furious 7 managed to leave new competitors like Paul Blart 2: Mall Cop 2 in the dust, making this achievement in just 17 DAYS! According to a statement by NBCUniversal Vice Chairman, Ron Meyer, the film's first-run box-office hustle bests any performance in the 103-year history of Universal.
Aggregately, the film now stands at $1.15 billion globally, which already makes it the seventh all-time performer. To put this in perspective, it took Furious 7 just three lucrative weekends at the box-office to make peers amongst the final numbers of films like Iron Man 3 ($1.15 billion) and yes, even the film that somehow became mandatory viewing for every living being under 10 years of age, Frozen ($1.27 billion.) Of course, at this rate, it's safe to say that Furious 7 has more than enough gas left in the tank to overtake those phenomenal performers, and could very well even surpass Harry Potter and the Deathly Hallows Part 2 ($1.34 billion) or the crown jewel of the Marvel Cinematic Universe, The Avengers ($1.51 billion.)
While the Furious 7 surge should start to sputter slightly as that latter film's super-sequel, Avengers: Age of Ultron gets set to hit on May 1, when all things are said and done, the seventh film in the Fast & Furious series will probably settle into rarified real estate, just below the cinematic kings of Cameron, Titanic ($2.18 billion) and the 3D-buffed topper, Avatar ($2.78 billion.) It's an amazing run for a film that's the seventh in a series, and has no direct appeal to the long-lucrative family demographic. The film seems to have been the end product of an absolutely perfect formula of momentum with notably amped-up action. However, it also stood as a poetically bittersweet destination due to it standing as the final performance of franchise star, Paul Walker. However, a notable narrative has pointed to the diversity of the cast which has made it stand out as something exceptionally accessible to global audiences.
While the current film was looking to be an awe-inspiring killer coda to the series, signs (specifically of the dollar variety) are clearly pointing to the franchise continuing in light of the newly-reached heights of its success. Indeed, Furious 7 even seemed to contain the seeds for a potential eight film in the series, teasing a new power player in the mythos in the mysterious Mr. Nobody, played by Kurt Russell. While it's tempting for a series to go out on top, for them to not continue after this ridiculous level of success would be as likely as Vin Diesel's Dom getting behind the wheel of an old Prius on his next harrowing heist.
Your Daily Blend of Entertainment News
Thank you for signing up to CinemaBlend. You will receive a verification email shortly.
There was a problem. Please refresh the page and try again.