Avengers: Age Of Ultron Is Going To Open To A Wild Amount Of Money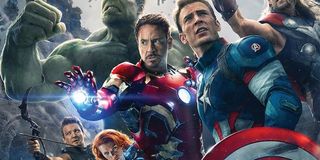 It may sound like we're about to tell you something that you already know, but the upcoming Marvel movie mega-sequel, Avengers: Age of Ultron is destined to do monumentally huge business at the box office when it hits in just a few weeks. The film is reportedly tracking at levels that could exceed the phenomenal $1.5 billion powerhouse predecessor, The Avengers! So, yeah, it's going to be insane.
According to a report from Deadline, the upcoming super-sequel Age of Ultron is well set to overtake the top spot for largest grossing opening weekends of all time; a spot that just happens to be held by the $207.4 million May 4, 2012 weekend take of its immediate mega-movie predecessor, The Avengers. The sequel is reportedly tracking slightly better than the original film had been at this point before its release, with advance ticket sales that began in early March also said to be "significantly" outselling the original.
As it stands, the original Avengers is currently ranked third on the all-time box office performers, only behind two very different James Cameron directorial efforts that gripped the moviegoing world for very different reasons with the 1997 date movie Titanic and the 2009 visual effects 3D watershed, Avatar. Yet, with The Avengers, we had a film that was, for all intents and purposes, the sixth film in a continuity-connected series that only stretched across four years, at that point. It is a testament to the brand that Marvel had established across a considerable amount of movies in such a short period of time.
An interesting footnote to these rah-rah raving reports, is that Age of Ultron is reportedly tracking two points lower that its predecessor in a category called "unaided awareness." Essentially, it means that polling indicates that a large portion of the potential audience have not quite placed the film at the top of their moviegoing minds, just yet. It's an odd revelation for this inevitable moneymaker that might be indicative of a possible onset of ennui with either the series or the genre, itself.
However, the "awareness" deficit could also reflect the dangers attributed to hyping a film too early; something that AOU has certainly done its share of over the past few years. It's possible that barrage of early hype may have cemented the film in the psyches of the audience as a long-ways-away pipe dream, to the point that the period of its imminent release (now) almost makes the film feel like an afterthought. But, that's just my own wacky conjecture-based speculation.
Thus, while Age of Ultron is all but guaranteed to spend the next few months as a money-making movie machine, the process of tracking the nuances of its undoubtedly lucrative performance could prove interesting. The film is set to unleash a robotic army of insanity at the box-office when it debuts on the ever-approaching date of May 1 in 3D and IMAX 3D.
Your Daily Blend of Entertainment News
Thank you for signing up to CinemaBlend. You will receive a verification email shortly.
There was a problem. Please refresh the page and try again.