Bad Robot Producing Nazi-Hunting Thriller Wunderkind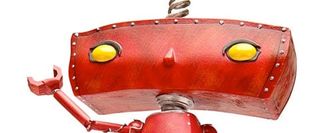 From an untitled Brad Parker action-thriller, to a super secret sci-fi flick for Paramount, to the space colony-set adventure The Wind, and the micro-budget pic The God Particle, J.J. Abrams' production company Bad Robot has been ratcheting up a dizzying amount of production deals this year. Now, hot on the heels of the last's announcement, Variety reports that Bad Robot—in conjunction with Paramount Pictures with whom they have a first-look deal—have snatched up Patrick Aison's spec script Wunderkind, a hot property that sparked a bidding war within days of its initial circulation.
Unlike the bulk of Bad Robot's upcoming slate, this action thriller seems to be steering clear of science fiction. Instead, the narrative is set in the 1970s and follows a pair of Nazi hunters, one a young CIA operative, the other an older Mossad member. Despite their differences—presumably not only in background but also in tactics—the two soon become reluctant partners in their search.
From this premise, it sounds like Paramount and Bad Robot are looking to make another intrigue-infused action movie in the vein of their wildly successful collaboration Mission: Impossible – Ghost Protocol, which raked in nearly $700 million worldwide. Of course, that film had the added boost of star power and a franchise platform. Still, Wunderkind has got an intriguing premise—who doesn't love a good Nazi-hunting movie?—and with Paramount's bankroll it could well secure a spectacular director who craft it into something extraordinary. With his untitled Star Trek sequel now wrapped, it's even possible that Abrams—who is committed to produce—may consider helming this pic himself.
Staff writer at CinemaBlend.
Your Daily Blend of Entertainment News
Thank you for signing up to CinemaBlend. You will receive a verification email shortly.
There was a problem. Please refresh the page and try again.