Bad Teacher: Unrated Will Reach DVD And Blu-Ray In October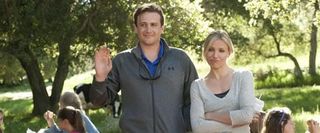 Like every other R-rated comedy that graced a movie screen this summer, Bad Teacher will be getting an unrated version when it comes to DVD and Blu-Ray. This could go one of two ways. Your Highness works in a cervix joke during its unrated version. On the other hand, Limitless isn't noticeably different in its unrated version. While I recognize the latter isn't a comedy, when quips and nudity are on the line, the same rules apply. I hope Bad Teacher gets its mouth dirty editing the unrated version, but with a shortage of ad-libbers in its cast, I'm not particularly hopeful.
Bad Teacher will hit DVD and Blu-Ray on October 18. Directed by Jake Kasdan, the cast features Cameron Diaz as a teacher feuding with the much-better-as-a-brunette Lucy Punch over another teacher, played by Justin Timberlake. Jason Segel also features prominently. If the actors aren't enough to entice you, I'm not sure the specs will be any consolation.
Though Bad Teacher is amusing, you can tell it isn't a full-on comedy by its bonus features. With the release, there will be no shooting-the-shit with the cast segments and no Line-O-Rama ad-libbing. Hell, there isn't even a gag reel. What buyers will get are a ton of featurettes. Among these, there are only a few that stand out, including a behind-the-scenes segment with Timberlake and Segel and bits called "Swimming with the Dolphins" and "Good Teacher." There will also be a PS3 wallpaper theme you can unlock. Clearly, this release is geared toward juvenile men. That's either actually the best marketing strategy or the saddest grab for money ever.
Your Daily Blend of Entertainment News