Barrymore Is Second Choice For Twilight Series Director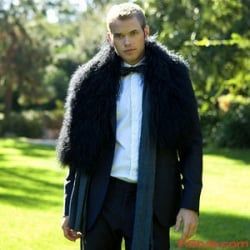 Other than that weird Drew Barrymore rumor a few weeks ago, there hasn't been much news about the third Twilight film, Eclipse-- mostly because they've just started filming the second one. But we know that the breakneck shooting pace means the director of New Moon, Chris Weitz, will be too busy editing to direct the third one. So the search for a new director is on, and Kellan Lutz, of all people, is giving us hints about who it might have been.
Lutz, who plays one of the foxy Cullens in the vampire saga, told MTV's Movies Blog that Barrymore was a second choice as a director, after.. well, he doesn't exactly remember who, but it was definitely a dude. "I actually heard rumors that they did have a third director, and he fell out, and then they saw more people. I would say [the name] if I could remember it. But I know it was a guy."
You may remember the scandal that popped up when Twilight director Catherine Hardwicke was ditched in favor of Weitz, with many-- myself included-- crying sexism. It was cool when Summit reached out to Barrymore, a new female director who's already proven with her yet-to-be-released directing debut Whip It! that she's interested in telling stories with a female voice. But apparently Summit most wanted to stick with the status quo, and reached out to another more reliable, less "irrational" man.
Obviously it would be stupid for Summit to hire an unqualified female director just to save face, and I really don't want Nancy Meyers or Nora Ephron directing Eclipse. But it seems they continue to be tone deaf about what might make these films a success, not to mention bad at keeping their talent from spilling set secrets. Lutz may be the one in trouble, but Summit is who should have some splainin' to do.
Your Daily Blend of Entertainment News
Staff Writer at CinemaBlend