Basic Instinct Writer Joe Eszterhas Back With Sexual Thriller Lust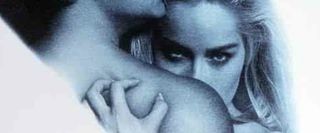 Though Joe Eszterhas hasn't worked in Hollywood in over 10 years, he's actually been living the dream: paid millions of dollars for scripts like Flashdance and Basic Instinct he went out on a flop with Showgirls and the embittered satire Burn Hollywood Burn, then moved to Cleveland and spent a decade raising a family, presumably off all the money he earned from the executives still scrabbling a living in the industry. I'm not really sure why you'd come back after pulling off something like that, but Eszterhas is coming back around to try his luck, this time with a new script that makes no bones about its subject matter-- it's called Lust.
Described in THR as a cross between Fatal Attraction and Basic Instinct, two movies I admit to struggling to keep separate in my mind, Lust involves a dizzyingly complicated love quadrangle between all kinds of fabulous people, including a Miami magazine editor, a playboy, a Russian assistant and the beautiful woman caught between them all. Scott Steindorff and Stone Village Productions, who just had a hit with the old-school legal thriller The Lincoln Lawyer, will be producing.
The plot sounds as overboiled and potentially fun as either Basic Instinct or Fatal Attraction, and you sure can't argue with the title. You could say the whole idea of glitzy Miami and sexual intrigue feels very early 90s, but for me right now that's part of the appeal. If you can give us a throwback and do it right, kind of in the way The Lincoln Lawyer did, it can work just as well as something more modern. Hopefully he's worked out enough of his anger at the system to bring back the kind of over-the-top thriller you can't help but enjoy.
Your Daily Blend of Entertainment News
Staff Writer at CinemaBlend