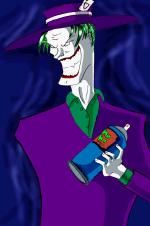 With great success almost guaranteed, ideas for a Batman Begins sequel are already in development. Instead of digging up another obscure villain, it seems that Director Christopher Nolan and writer David Goyer have their sights set on the grandest villain of them all.
The latest Premiere magazine features a lengthy section on Begins. Goyer says some interesting things about potential sequels. He says "the next one would have Batman enlisting the aid of Gordon and [Harvey] Dent in bringing down the Joker…but not killing him, which is a mistake they made in the first one." Oh but that's not all! He then adds "in the thirds, the Joker would go on trial, scarring Dent in the process." YES!
This is awesome news for Batman fans. As great as Jack Nicholson's Joker was, I want him even more sinister and less campy. With a two-movie arc on the Joker, we will definitely be in for something grand. Harvey Dent's involvement already looks better. Make me like the character and care for him before you turn him into Two-Face. Poor Billy Dee was dissed the last time around.
Batman Begins debuts June 15th.
Your Daily Blend of Entertainment News
Thank you for signing up to CinemaBlend. You will receive a verification email shortly.
There was a problem. Please refresh the page and try again.