Batman vs. Superman Could Turn Detroit Into Gotham City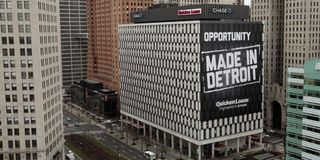 The big news about Man of Steel 2-- or Batman vs. Superman, if you go that way-- is obviously Ben Affleck's casting as Batman, which has every geek of every stripe arguing themselves into a frenzy today. But eventually they have to get down to business and shoot the thing, and presumably Batman's presence will mean a new appearance for Gotham City, which shape-shifted in Christopher Nolan's three Batman films, being portrayed by Chicago, Pittsburgh and New York City, sometimes simultaneously. Batman has a new face for Batman vs. Superman-- will Gotham get one too?
From the sounds of the new rumor at Latino Review, it definitely will. They hear that the film's production team has scouted locations in Detroit, specifically as a stand-in for Gotham. On top of that the team has also apparently been to Morocco, a popular destination for any film that requires a desert location-- it subbed for Abu Dhabi in Sex and the City 2, for Iraq in Body of Lies and for Mombasa, Kenya in Inception. The fact that all three of those films are Warner Bros. productions is significant, since the studio has developed a good relationship with the country that seems eager to bring in foreign film dollars. Latino Review speculates that the desert location could make an ideal spot for Bruce Wayne or Lex Luthor to discover kryptonite, but let's not get ahead of ourselves. We could see Affleck's Batman returning to the prison where Bruce Wayne was held in The Dark Knight Rises, for all we know.
Detroit makes sense as a Gotham sub as well, given Michigan's ongoing efforts to lure film productions as varied as The Five-Year Engagement and Transformers 4. And if Snyder wants to keep the dark-and-gritty thing going in Man of Steel 2, he can't do much better than portraying Gotham as Detroit, a city crumbling to the point that even a billionaire like Bruce Wayne (or real-life Dan Gilbert) can't keep it afloat single-handedly. Then again, Detroit has pretended to be any number of different cities over the years, so even if the production moves to Michigan, there's no promise that Batman's Gotham will look a thing like the jewel of Lake St. Clair.
As the period of speculation around Batman vs. Superman moves from pure rumor to actual fact, we'll have plenty more details like this to sort through-- and plenty more meanings not to read too much into it. If you live in Detroit, get excited! Batman might be coming to town! Otherwise… I'm not sure what we've learned here. But feel free, as always, to tell me how wrong I am in the comments.
Staff Writer at CinemaBlend
Your Daily Blend of Entertainment News
Thank you for signing up to CinemaBlend. You will receive a verification email shortly.
There was a problem. Please refresh the page and try again.