Oz The Great And Powerful Cost Michigan Taxpayers Almost $9 Each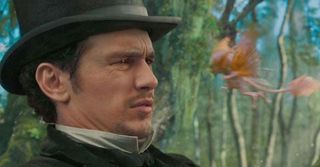 They say you should never mix alcohol and politics. I learned the wisdom in this last summer when I casually mentioned to a family member how relieved I was that New York State had recommitted to the subsidy program that serves as an incentive to get film and television productions to shoot within the state. My beloved relative practically spat as she exclaimed, "Wait! You're saying the government PAYS these people to make movies. That's insane!" We'd both been drinking, so I was not able to deftly explain how that's not really how these incentives worked. After failing repeatedly, I opted out of the conversation to get another round.
Most people, I realized, don't really understand how these subsidies are meant to work. For me, it's sort of part of my job. And while no expert, I get the basic concepts. The same cannot be said for the Mackinac Center, which is decrying such subsidy programs in Michigan on problematic grounds.
Criticizing the state's government spending, writer Jarrett Skorup reports $39.7 million was awarded to the production of Walt Disney's Oz: The Great and Powerful to shoot within the state. He says this means every taxpayer in Michigan chipped in essentially $8.82 toward the film, more than the average ticket price to see a movie in this country. The problem is, Skorup is not presenting these as fun facts, but as evidence that the government is spending their tax money poorly.
He goes on to note that many of the films the state's subsidy have helped fund have done poorly at the box office (like Vanishing on 7th Street and Kill the Irishman) and with some snarkiness seems to imply others like A Very Harold and Kumar Christmas and Transformers 3 aren't artistically worthwhile, and therefore a waste of money. But despite Skorup's clear distaste for "Hollywood," neither of these points is relevant because the government is not investing in these movies in that sense.
It's not like a state government is chipping in for projects they believe in or think will do well at the box office. Michigan doesn't share in the glory if a movie shot there wins an Oscar, and taxpayers don't get a pay bump if movies shot in their state become blockbusters. The point of these tax incentives is to drum up film and television production within the state, a potentially healthy business to attract. The idea is that this will create jobs for crew members within the state, and bump up business for local hotels, restaurants, transport services, and other businesses that benefit when hundreds of people need room, food, and travel accommodations for the length of a shoot. Skorup notes "up to 42 percent of Michigan expenses" are refunded by the state to filmmakers, but he doesn't mention what kind of expenses. (These things usually have a lot of rules meant to encourage local hires.)
More to his point, Skorup sites a claim that the film program has only brought "$0.11 per dollar spent" back to the state. If this is true, then, yes, Michigan's incentive program is seriously flawed. In fact, the film subsidy system itself may be flawed, as it pits one state versus another, possibly encouraging reckless incentives that hurt rather than help the local economy. But if we're going to have a discussion about the pros and cons of film subsidies, then we need to understand that how a movie does for better or worse (at the box office or with critics) isn't usually a factor. Also, remember that cutting these incentives doesn't mean production companies will necessarily pay more to make their movies. It more likely means they'll shoot somewhere cheaper, like Canada.
Staff writer at CinemaBlend.
Your Daily Blend of Entertainment News
Thank you for signing up to CinemaBlend. You will receive a verification email shortly.
There was a problem. Please refresh the page and try again.