On The Set Of The Five-Year Engagement With Jason Segel And Emily Blunt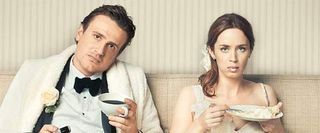 If you're going to throw an engagement party, you can do a hell of a lot worse than Sonoma, California. The entire county is covered with some of the most beautiful flora and fauna you'll ever see and the various vineyards produce some of the finest wines in the world. It's no surprise that Jason Segel and Emily Blunt's characters from the upcoming film The Five-Year Engagement decided to bring their friends and family together to the area to celebrate their commitment to one another. Even better, a small group of journalists, including myself, were invited to come along as well.
Last summer I had the pleasure of traveling up to the Beltane Ranch in Sonoma (called The Drunken Pig in the movie) to both talk with the cast and crew of the comedy and watch them film a few scenes, including a brief and graphic encounter between Emily Blunt and a local vineyard owner as well as congratulatory toasts from those closest to the future bride and groom.
Directed by Nicholas Stoller (The Muppets), the film tells the story of Tom and Violet (Segel and Blunt), a loving couple who decide that they want to spend the rest of their lives together. While things move smoothly at first, the couple hits a speed bump when Violet, a postdoc candidate in the area of social psychology, gets a position at the University of Michigan and they agree to move from their San Francisco home and postpone their plans to get married. But while Tom, a chef who practices molecular gastronomy, believes that he'll have no problem finding a home and career in Ann Arbor, as the years pass he starts to miss his home more and more and their one-year long engagement gets longer and longer.
Though slightly dampened by a light rain that greeted us as we arrived on set, we were also immediately thrown into hysterics as we watched Blunt converse with a vineyard owner, played by Murray Miller, as she tried to determine if his establishment was the proper place to host her engagement party. Unfortunately, he was a bit more preoccupied with the idea of having sex with her in a pile of hay. What was great about watching the scene wasn't just that it was hilarious, but that Stoller would just keep the cameras rolling and allow the two actors to improvise and make the scene as funny as they could. But regardless of which version of the scene made the most people laugh, Stoller told us later in an interview that what actually makes it into the final cut is determined in post-production rather than on the day.
"I'm not really sure at this point," Stoller said, "because also, sometimes things that are really funny on the day, when you look at them in post can feel too broad, you know? Sometimes not, but it's kind of a weird how that can change. And sometimes you're not noticing a little eye movement that's hilarious."
That scene, however, was actually only three lines on the page. The bulk of what we got to watch on set was the engagement party itself, namely the wonderful and irreverent toasts given by the guests, including Chris Pratt (who plays Alex, Tom's best friend); Alison Brie (who plays Suzie, Violet's sister); Mimi Kennedy and David Payer (Carol and Pete Solomon, Tom's parents); and Jacki Weaver and Jim Piddock (Sylvia and George Barnes, Violet's parents). What's more, each different toast immediately told us about the nature of the character delivering it.
Starting the series were Kenedy and Paymer, who took turns reading lines from a sweet little poem that ended with an off-color joke about Tom's grandfather dying from a stroke. Next up was Piddock, who, divorced from Violet's mother, had his Thai girlfriend, Marapol, join him at the microphone (naturally this ends with comments about uninhibited sex and a long make-out session). Following that performance was Weaver, who takes the mood down a bit by suggesting that Tom and Violet aren't living in a Tom Hanks romantic comedy, but rather a different Hanks movie…like Saving Private Ryan or Philadelphia. Then Brie took the mic (speaking with a British accent) and instead of elevating the mood, dropped it even lower by crying, comparing herself to Pippa Middleton in that she's the "forgotten sister." Last was Pratt, sporting some AV equipment and a headset microphone, who decided to use his speech to sing about all of Tom's ex-girlfriends to the tune of Billy Joel's "We Didn't Start The Fire" (you can actually see some of this in the film's first trailer).
Obviously, with a group of such eclectic performers it becomes important to have the characters match the voice of the actor, and that was accomplished through rewrites following casting. "We rewrite every time we cast somebody," said Segel, who, in addition to starring also co-wrote the film with Stoller. "We sit down with them and go through the script literally scene by scene. We talk to them and get a sense of how they speak and stuff."
Beyond the script, the actors also appreciated how Stoller would toss out lines during a scene to keep things from getting stale. "[It's] not just improv, but collaboration, I think," Brie said. "So it's Nick coming up with stuff, and then you pitching something, and then you guys creating new lines two minutes before you say them. So it's not all the improv in the moment, but I still just have five minutes to rework it in my head and run it past Emily maybe, and give it a go. So, I've been having fun with it."
"He does that a lot with us and with everyone," said Paymer while sitting with Kennedy. "I love that. It keeps everything fresh. It keeps everything spontaneous. It's like it's happening, obviously, for the first time. You can study your script and I've got all these notes myself, but he's going to change it four or five different ways."
Much like Forgetting Sarah Marshall, the first feature from Stoller and Segel, The Five-Year Engagement also does plenty to earn its R-rating. But while the language earns it for sure – we heard more than a few utterances of the word "fuck" while on set – Stoller and the cast also teased us by mentioning that the film will contain plenty of terrible sex. "Nothing makes us laugh like weird, awkward, bad sex and there's a lot of that," Stoller said, laughing. "It's not for the "fucks," it's for the bad sex that we want the R. If you're going to have a five year relationship you need to explore that side of it."
Overall my trip to the set of The Five-Year Engagement was a total blast, but this is just the tip of the iceberg. Stay tuned to Cinema Blend over the next couple of days as I will be rolling out interviews with Nicholas Stoller, producer Rodney Rothman and the incredible cast.
Your Daily Blend of Entertainment News
Assistant Managing Editor
NJ native who calls LA home and lives in a Dreamatorium. A decade-plus CinemaBlend veteran who is endlessly enthusiastic about the career he's dreamt of since seventh grade.