Batman V Superman Already Topped Captain America In One Important Battle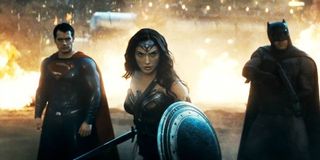 The box office battle between Batman v Superman: Dawn Of Justice and Captain America: Civil War is going to be one of the most intriguing of 2016. And despite the fact that BvS and Civil War are still 3 months and just less than 5 months away from being released, respectively, there are a number of ways to track which film is currently the most popular. In fact, if you're wondering which trailer generated the most buzz on Twitter in the week after it premiered then you'll be glad to know that the answer has arrived in the shape of Batman v Superman: Dawn Of Justice.
Warner Bros. and DC decided to release the latest trailer for Batman v Superman: Dawn Of Justice just one week after Marvel had premiered the first footage for Captain America: Civil War. And it looks like their decision to try and squash the impact of their Marvel rival worked like a charm, because according to research film ListenFirst, via the Wall Street Journal, the Batman v Superman: Dawn Of Justice clip generated more Twitter buzz after its release.
ListenFirst's data revealed that the spot, which, like the Civil War footage, premiered on Jimmy Kimmel Live, was the talk of the town across social network over the last seven days. Which probably had something to do with the fact that it gave us our first looks at Doomsday and featured Gal Gadot's Wonder Woman, Ben Affleck's Batman, and Henry Cavill's Superman stood large and proud and ready to do battle.
In order to claim this highly coveted praise, the clip beat out new footage from the Kevin Hart and Ice Cube led comedy Ride Along 2 and the first trailer for Shane Black's new film, The Nice Guys. And even though Batman v Superman: Dawn Of Justice's trailer was rather enjoyable, I would say that the trailer for The Nice Guys pretty much eclipsed it in every possible way.
Despite this "defeat," Marvel probably won't be losing too much sleep. The Civil War trailer still was met with mostly positive feedback, while almost every corner of the world wide web was caught up in discussions over whether BvS had shown too much.
The real battle for supremacy will begin when Batman v Superman: Dawn Of Justice is finally released into cinemas on March 25, 2016, while it then will closely be followed by Captain America: Civil War on May 5, 2016.
Your Daily Blend of Entertainment News