Batman V Superman Confirms Jena Malone For A Mystery Role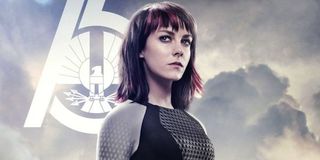 Like most superhero films, Batman V Superman: Dawn of Justice has dealt with its fair share of rumors and plot leaks, but yesterday things got taken up a notch. An anonymous extra spoke with Michigan's WILX (risking a $5 million lawsuit) and revealed several spoilers, one of which was that there will be a female Robin in the film. Combined with the rumors that The Hunger Games: Catching Fire actress Jena Malone is involved with the production, is it possible that these two items are connected? It's a cop-out answer, but yes and no.
The Hollywood Reporter is confirming that Malone is in Batman V Superman, but it's unknown whether she's playing a female Robin or a different character. Malone has been seen on set for months now, but these visits were originally attributed to visiting Sucker Punch director Zack Snyder. Then two weeks ago, Malone posted a photo on Instagram of her hair newly dyed red, a color similar to Carrie Kelley's, the female Robin from The Dark Knight Returns. Since it's been repeatedly mentioned that this film is taking cues from Returns, it wouldn't be unusual if Ben Affleck's grizzled Batman is being assisted by Kelley. One problem with this role is that Kelley is 13 while Malone is almost 30, but this could be rectified by aging Kelley to her early-mid 20s and explaining that she's been working with Batman for years.
Of course, red hair doesn't automatically mean Malone will be putting on the red and green tights. Another notable redhead in the Batman mythology is Barbara Gordon, better known as Batgirl. It's possible that during the film, Batman doesn't have a Robin, but that doesn't mean that he's not getting help from a similarly dressed Bat-vigilante. The 1997 animated series The New Batman Adventures took a similar approach with Batgirl as the Caped Crusader's main sidekick when Dick Grayson left Gotham City. Then again, until Warner Bros. releases a character description or someone snaps a photo of her in a peculiar costume, fans will just keep playing the guessing game with her character's identity.
On the Robin front, if Malone is playing Kelley, there needs to be acknowledgement that other Robins preceded her. First there was Dick Grayson, who eventually becomes Nightwing, and then Jason Todd, who was killed in the line of duty. Carrie is just another in the long line of sidekicks. Then when the Batman solo film is released, we can learn more about what caused Dick to leave and who killed Jason, the prime suspect with the latter being a certain Clown Prince of Crime. Being Robin is a lot more dangerous than one would think, which begs the question why Batman continues to recruit underage kids to help him fight the superstitious and cowardly lot of Gotham City.
Your Daily Blend of Entertainment News
Connoisseur of Marvel, DC, Star Wars, John Wick, MonsterVerse and Doctor Who lore. He's aware he looks like Harry Potter and Clark Kent.
Your Daily Blend of Entertainment News
Thank you for signing up to CinemaBlend. You will receive a verification email shortly.
There was a problem. Please refresh the page and try again.