Batman V Superman Might Give Us A Female Robin, Here's The Evidence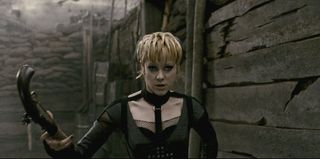 It's no secret that Ben Affleck's Batman (or 'Batfleck' as he's affectionately referred to on the Internet) in Batman V Superman: Dawn of Justice is partly being inspired by 1986's The Dark Knight Returns, the dystopic comic book miniseries that revitalized the Caped Crusader. The movie not only features an aged Batman, but as San Diego Comic-Con goers witnessed at the Warner Bros. panel this summer, he'll also wear armor that looks like it was ripped straight out of the book. However, the movie's similarity to the critically lauded tale may extend past age and appearance.
Several months ago, actress Jena Malone was seen on the Dawn of Justice set, sparking speculation that she was involved with the production. The most common thought was that she is playing Carrie Kelley, the Robin from The Dark Knight Returns. She later said that she was just visiting, which makes sense considering that she worked with director Zack Snyder on 2011's Sucker Punch. However, speculation's running as she recently posted a picture of herself with her hair dyed red, a color similar to Kelley's.
Keep in mind that this could all just be a coincidence. Jena Malone could be dying her hair for another role, or perhaps she just felt like being a redhead. However, the idea of her playing Kelley isn't entirely weird.
While Dawn of Justice Bruce Wayne won't be quite as old as his Dark Knight Returns incarnation, he's still been Gotham City's protector for quite awhile by the time Superman shows up. With more than a decade of crime-fighting under his belt, he's bound to have gone through a few sidekicks, like he's done in the comics. Dick Grayson was the first Robin, who later became Nightwing. He was succeeded by Jason Todd, who was killed by the Joker, but later revived and is now The Red Hood. Tim Drake was third (now the Red Robin), followed by Stephanie Brown (though not in the New 52 continuity) and finally Bruce's son Damian. In the Dark Knight Returns continuity, only Grayson and Todd (who's still dead) have been Robin, and Batman accepts her as the new Robin after he saves her life, although he repeatedly threatens to fire her.
One issue is that Kelley is a 13-year old, while Jena Malone is turning 30 next month, but this can be rectified by putting Kelley in her early-20s in the film. Malone finished filming The Hunger Games: Mockingjay, Part 2 several months ago, so her schedule is free for the moment. However, if she is in Dawn of Justice, it's likely only a small part. Possibly during a Gotham City sequence where Batman and Robin are chasing down a bad guy. She'll help him out then, but once Wayne starts dealing with Superman and Wonder Woman, she'll be pushed to the sidelines, although if they decide to give this Batman a solo series, it's a good bet she would reappear.
With Dick Grayson as Nightwing set to be the main character of DC's proposed live-action TNT series Titans, it's possible that the film may want to distance itself from the TV world, hence choosing the Robin that played a big role in The Dark Knight Returns. It would certainly be an interesting move, although they may want to upgrade her weaponry. That slingshot may work for a 13 year old, but this version of Carrie Kelley will need something that packs a bigger punch.
Your Daily Blend of Entertainment News
Connoisseur of Marvel, DC, Star Wars, John Wick, MonsterVerse and Doctor Who lore. He's aware he looks like Harry Potter and Clark Kent.
Your Daily Blend of Entertainment News
Thank you for signing up to CinemaBlend. You will receive a verification email shortly.
There was a problem. Please refresh the page and try again.