New Batman V Superman Trailer Is So Much More Badass With A Korean Narrator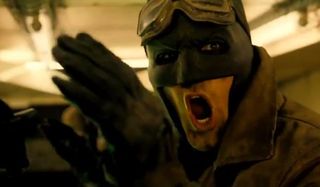 What happened to American trailers? They all used to start with that epic "In a world..." intro that we all loved so very much. Somewhere along the line, though, studios must have decided that they were too good to have a badass narration over all of the action. Luckily, the Koreans haven't forgotten that lost art, and as a result we now have one of the coolest Batman V Superman: Dawn of Justice trailers to date. Check it out below to see for yourself.
We can't understand a word of the narration in that trailer, but that really doesn't matter; it's about as badass as it gets. Much of the action shown in the one-minute preview comes from sequences we have either seen, or already know about; that being said, it offers much clearer context into each of those scenes. The whole thing starts with Batman in full Dark Knight Returns armor staring Superman (Henry Cavill) down in the sky as Lex Luthor (Jesse Eisenberg) describes the grand scale of the coming gladiator match. The trailer then quickly cycles between the Caped Crusader (Ben Affleck) taking on armed thugs in full Arkham City mode, the Batmobile tearing through the streets of Gotham, and the ultimate superhero showdown between Clark Kent and Bruce Wayne, with glimpses of characters like Wonder Woman (Gal Gadot) and Lois Lane (Amy Adams) thrown in for good measure.
By the end of the entire, exhausting trailer, we see a panting Batman standing among flames as Superman effortlessly walks towards him. Whether or not this heavy breathing stems from physical exhaustion, or genuine fear of the coming battle with the Man of Steel remains to be seen. Considering the scale of their fight, it really could be either option at this point.
Perhaps the most interesting aspect of the entire trailer is the sheer amount of Knightmare Batman we get to see. At around the :38 second mark of the trailer, we see Batman turn behind him and scream "no!" at some unseen force. It's unclear exactly what he's screaming at, but it's entirely plausible that we could see The Dark Knight lose what few loved ones he has left during this apocalyptic (Apokalyptic?) dream sequence.
Because, I mean, you see this sign, right?
There's less than two weeks until this behemoth of a movie finally comes out, but that Korean trailer represents some of the finest promotional material we have seen thus far. As always, we will keep you posted regarding any and all Batman V Superman: Dawn of Justice updates as they become available to us; the film will hit theaters on March 25. Whose side are you on?
Your Daily Blend of Entertainment News
Originally from Connecticut, Conner grew up in San Diego and graduated from Chapman University in 2014. He now lives in Los Angeles working in and around the entertainment industry and can mostly be found binging horror movies and chugging coffee.