Batman v Superman Is Pouring Money Into One Epic Visual Effects Sequence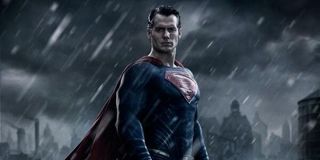 We've been tickled with excitement over Batman v Superman: Dawn of Justice ever since Warner Bros. made the big logo reveal a couple Comic-Cons ago. As it turns out, though, there's even more over which to geek out. Apparently the production is going all out in bringing back the special effects masters at Weta Digital for -- at least -- on one special scene in the 2016 blockbuster.
Remember that opener to Man of Steel that featured an epic Kryptonian battle and Superman's journey to Earth? Weta was responsible for that, and according to Senior Visual Effects Supervisor Joe Letteri, they're cooking up another scene that'll surely be just as massive. During an interview with Collider, the four-time Oscar winner was asked about his work on the project and told the site,:
He did make one thing very clear: this sequence is not the footage we saw at San Diego Comic-Con this past summer, which was more of a teaser of Superman hovering above a glowing-eyed Batman, ready to throwdown. Could the special Weta-made scene be an epic battle between the titans of Gotham and Metropolis? Or perhaps it'll be another flashback scene or moment in space. What we can expect is the attention to detail and life-like quality that makes us feel like we're right in the heart of the action. The New Zealand-based visual effects company is one of the best in their field, and have worked on the Planet of the Apes and Hobbit movies, The Wolverine and Iron Man 3, to name a few. They also worked with ILM to create that awesome Thor vs. Iron Man rumble in The Avengers:
There's already so much to look forward to in Batman v Superman. We've got Gal Gadot and Jesse Eisenberg making their debuts as Wonder Woman and Lex Luthor, as well as reported cameos from Jason Momoa as Aquaman and Ray Fisher as Cyborg. Not to mention, of course, the showdown promised in the title. Ben Affleck, Henry Cavill and Amy Adams have finally wrapped production, but we can't wait to see some actual action.
Your Daily Blend of Entertainment News
Thank you for signing up to CinemaBlend. You will receive a verification email shortly.
There was a problem. Please refresh the page and try again.