Behind The Scenes Of Harry Potter 5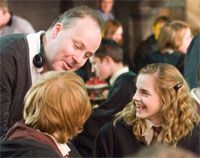 With the vibe on Harry Potter and the Order of the Phoenix running sky high after a couple of really fantastic trailers, Warner Brothers is ready to give all of you a peek at what it's like to be on a Harry Potter set. They've sent us eleven new, behind the scenes stills showing Potter newbie director David Yates working his magic with the Potter cast and kids in front of the camera.
To see all of our great Potter behind the scenes pics in high-resolution, just click on one of the thumbnails below:
Your Daily Blend of Entertainment News
Thank you for signing up to CinemaBlend. You will receive a verification email shortly.
There was a problem. Please refresh the page and try again.