Behind The Scenes Images And Even More Info On Joss Whedon's Much Ado About Nothing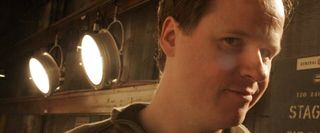 Somehow Joss Whedon has managed to create more buzz for his newly announced adaptation of Much Ado About Nothing with a simple press release than he has for his major feature film comic hero flick The Avengers. Fans of the Whedonverse were ecstatic to hear that aside from directing what will likely be the biggest film of 2012, he also managed to find time to shoot a film using many of fans' favorite actors from Whedon's shows Buffy the Vampire Slayer, Angel, and my favorite Firefly.
EW got an interview with Whedon and was able to squeeze a few details about the project out of him and land a few pictures of the film's stars as well. Whedon is famous for holding Shakespeare readings at his home (the location in "exotic Santa Monica" where Ado was shot), but never dug in and adapted one for film. Here's what he had to say about why Ado became his first Shakespearean foray and what to expect from the film:
Employing many Whedon alumni, Ado stars Nathan Fillion and Sean Maher from Firefly, and Alexis Denisof and Amy Acker from Angel. With the exception of Fillion, you can see your first look at these actors below.
This version of the film has been updated slightly from the old Shakespearean text, and Sean Maher dropped some details about how it's been modernized and how Joss Whedon's house worked as the sole location for the film.
According to Whedon, no distributors are moving in on the property just yet, which isn't surprising since the announcement of the film came only yesterday. Whedon's plan has Much Ado About Nothing starting its life in the festival circuit next year, where it will inevitably find a distributor if no one grabs it before then.
This project feels like something film students would do on their Easter break, and that sort of intimate family environment, especially for these folks who have been friends for over a decade, means that we're going to get something very special when the film finally finds theaters next year. It's nice to know that Whedon isn't afraid to keep to his roots even when he's busy making big budget tentpoles. More on Much Ado About Nothing as it comes to us.
Your Daily Blend of Entertainment News
Thank you for signing up to CinemaBlend. You will receive a verification email shortly.
There was a problem. Please refresh the page and try again.