How Roberto Orci Feels About Star Trek 3, Now That He's No Longer Directing It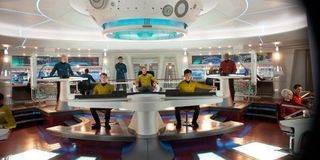 It was announced last week that Roberto Orci was officially stepping away from his role as director of Star Trek 3. Understandably, rumors were swirling over Orci's departure, leaving fans wondering how much--if any--involvement he would have in the production of Star Trek 3. Orci has finally broken his silence and spoke to a Star Trek fan site about his departure, what his role will be in the film, and if there was any bad blood surrounding his departure.
As Slash Film reports, Orci told TrekMovie.com that he still plans to be very involved in the making of the third film, and that he is incredibly excited to be a part of the team bringing the film to the big screen. His announcement to still be a part of the Star Trek 3 team lines up with the news Deadline has widely reported, stating that Orci will stay on board as producer instead of director. Roberto Orci also told fans at TrekMovie.com that there is no plans to change the film's production schedule. Given that the team at Paramount had planned Star Trek 3's release to coincide with the 50th anniversary of Star Trek, I'm sure they aren't terribly keen to mess around with the film's release date.
Still, the question remains why did Orci give up the director's chair? During his impromptu Q&A with fans at TrekMovie, a fan quoted the one and only Captain James T. Kirk to Orci, saying, "Don't let them do ANYTHING to take you out of that chair [sic]. Because while you're there, you can make a difference." Orci responded to the fan by saying, "Have not forgotten. On the contrary, factored into the decision. There are bigger chairs to consider." Orci's comments almost make it seem like his ultimate goal was to obtain the role of producer, or at least that Orci feels he can best serve the film as producer.
Another interesting development from Orci's comments on TrekMovie centered around the plot of Star Trek 3. Rumors had circulated that Star Trek 3 would center around the Vulcans traveling through time to stop the destruction of their home planet, which would allow Chris Pine to get a chance to be onscreen with William Shatner, just as Zachary Quinto shared the screen with Leonard Nimoy in the 2009 Star Trek and Into Darkness. However, Orci shot that down the plot rumors right away, saying "No time travel was ever considered, fyi." Shatner has been widely rumored to have a cameo in the third Star Trek, so it's now incredibly unclear what role he'll play in the upcoming film--if a Shatner cameo is even happening, at all.
Right now it is heavily rumored that Edgar Wright is on the short list of directors being considered to take up the director's chair for Star Trek 3, but no official announcements have been made, and no official comments on the names residing on the shortlist have come out. Of course I can't help but get excited over the thought of Edgar Wright and Simon Pegg getting the opportunity to work together again. Maybe we can make Star Trek a fourth Cornetto film??? Okay, maybe not…
Barring any schedule changes, Star Trek 3 will be heading to theaters in 2016.
Your Daily Blend of Entertainment News