If Ben Affleck Keeps His Batsuit, He'll Have To Forfeit A Stupid Amount Of Money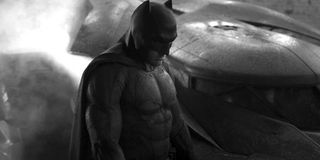 Like any other Batman fan, when Ben Affleck actually got his hands on his very own Batsuit he never wanted to let go. It just so happened, however, that Affleck's Dark Knight attire had been assembled for Batman v Superman: Dawn Of Justice, and when he asked Warner Bros how much it would cost him to take it home so that he could play Batman in the privacy of his backyard he was told it would cost him $100,000.
Featured as a guest on Live With Kelly And Michael, Affleck revealed that he balked at the price, and then decided that it would probably be better if he settled with a photo -a decision that his wife, Jennifer Garner, surely agreed with. Said the soon-to-be Caped Crusader,
The man who Affleck praised, Michael Wilkinson, was just nominated for an Academy Award earlier this year for his work on American Hustle,and so far he has received a largely positive response to his work designing the Dark Knight's Batman V Superman: Dawn Of Justice suit. Wilkinson certainly had a challenge put in front of him we he accepted the job, as he had to create a Batsuit that was both reminiscent of Bruce Wayne's previous cinematic attire and completely original and representative of Snyder and Affleck's vision for the character. That said, I'm betting his hardest job on the project was giving Wonder Woman an updated look that also recalled her former style - and once again Wilkinson hit his design out of the park. Wilkinson has provided Gal Gadot with a sleek and sexy garment for the super-hero hybrid that is both alluring and protective. The latter being a very handy tool for a woman who loves to get into scraps with ruffians of all shapes and sizes.
During his early morning chat, Affleck also discussed his bulking up routine for Batman v Superman: Dawn Of Justice, and he admitted that when playing a superhero it is as much a part of the acting process as learning your lines. Said Affleck,
Fortunately for Affleck, all of his hard work has clearly paid off; because his body is now so jacked there are probably doors that he can't fit through anymore. We'll finally get to see him in action when Batman v Superman: Dawn Of Justice arrives in theaters on March 26, 2016.
Your Daily Blend of Entertainment News
Thank you for signing up to CinemaBlend. You will receive a verification email shortly.
There was a problem. Please refresh the page and try again.