Benedict Cumberbatch Finally Can Talk About Doctor Strange, So He Said This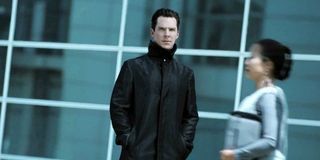 It has been one of the worst kept movie secrets of the last few weeks, but now that Benedict Cumberbatch has finally been confirmed as Doctor Strange the beloved British actor has started to talk about the role.
During his attendance at the 2014 British Independent Film Awards, Benedict Cumberbatch was asked by Hey U Guys [via the Hollywood Reporter] what it was like to have been cast as the Sorcerer Supreme. And as you can imagine the Sherlock star wasted no time in speculating about the upcoming blockbuster.
It's hardly surprising that Benedict Cumberbatch is pumped to star in Doctor Strange. The hugely popular thespian, who has had a pretty stellar last 18 months, beat out a cavalcade of other actors to land the role. In fact at one point it had almost become farcical how long it had taken Marvel to cast the film. The likes of Tom Hardy, Keanu Reeves and Joaquin Phoenix were all heavily linked to Doctor Strange. The latter seemed to have been a shoe-in during the summer, too. However, either Joaquin Phoenix dropped out or Marvel decided that Benedict Cumberbatch was a better fit for the quirky but complex part. Then, last month, it became clear that he would be starring in the film, but Marvel only confirmed he would take the titular role last week.
But is Benedict Cumberbatch right for Doctor Strange? Almost certainly yes. While there had previously been a few issues regarding whether he was actually a big enough name to star in the film, his Hollywood status has grown exponentially over the last couple of months. This has been mostly down to his work in The Imitation Game, which has been roundly lauded by critics and audiences alike. Benedict Cumberbatch is a shoe-in for at least an Oscar nomination at the start of next year, while there have even been suggestions that he is currently the favorite to pick up the coveted accolade at the ceremony in February. Whether he will actually be able to usurp the likes of Birdman's Michael Keaton or Foxcatcher's Steve Carell remains to be seen. But if he does, Benedict Cumberbatch would certainly be a worthy winner.
Starring in Doctor Strange is also a pretty clever career choice for the actor too. Marvel have helped to boost the careers of Robert Downey Jr, Chris Hemsworth, Chris Evans and Chris Pratt by casting them as Iron Man, Thor,Captain America and Guardians of the Galaxy's Peter Quill respectively, and you can only imagine that Benedict Cumberbatch will experience the same hike too. That's despite the fact that he possesses the most un-cinematic name of all time.
Your Daily Blend of Entertainment News
Thank you for signing up to CinemaBlend. You will receive a verification email shortly.
There was a problem. Please refresh the page and try again.