Best Little Whorehouse Remake, Queen Latifah Casting Inevitable?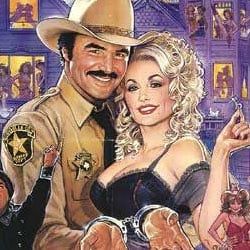 A few years ago the news that Hollywood is remaking the Burt Reynolds, Dolly Parton classic The Best Little Whorehouse in Texas would have sent us all running for our pitchforks and torches. Now all I can say is… eh, at least it isn't Hitchcock. I wonder if it'll be in 3D?
The news comes from Variety where they say they've hired the folks behind Legally Blonde to modernize the 1982 film. The original starred Burt Reynolds as a town sheriff and Dolly Parton as a madame who work together to stop a holy roller crusader from shutting down the Chicken Ranch, famed establishment of ill repute. That means you could get a whore there. It was based on a musical, and so the movie was a musical, which explains Dolly's involvement.
For the redo they're keeping the music in, though it could be different music. Karen McCullah Lutz and Kirsten "Kiwi" Smith, the aforementioned Legally Blonde masterminds, seem an odd choice to write a movie about the virtues of whores, but they did write The House Bunny and that's pretty much the same thing. Countdown till Queen Latifah gets cast as Dolly Parton's replacement starts now.
Your Daily Blend of Entertainment News