Big Eyes, Goosebumps, Ben-Hur, Smurfs 3 And Others Get Release Dates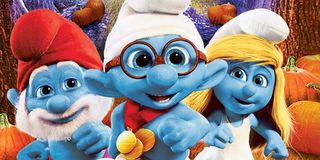 Today marked a bevy of release date shifts, likely as the 2014 summer movie season is unofficially underway, reminding execs that some movies might be finished ahead of time, and others have a lot of work left to make them palatable. Are you ready to plan your 2014 and 2015 around Big Eyes, Goosebumps and The Smurfs? The question is rhetorical. You totally are.
First off, The Weinstein Company nabbed a couple of release dates for some of this year's potential Oscar contenders. The big one is Tim Burton's Big Eyes, which stars Amy Adams, Christoph Waltz and Danny Huston. The art-world drama, which pits a pop-art purveyor against her glory-seeking husband, is getting the cozy Christmas day slot, a competitive date that already includes fellow Oscar contenders Into The Woods, Angelina Jolie's Unbroken and Cameron Crowe's currently untitled next feature. Oh, and also Hot Tub Time Machine 2. It's possible this will only be a limited release, similar to the slow rollout on Christmas twenty years ago for Burton's Ed Wood, which shares the same screenwriters as Big Eyes.
The Weinstein Company is also placing their flag on November 21st, taking on The Hunger Games: Mockingjay Pat 1 and the Kevin Costner drama McFarland with their potential Oscar contender The Imitation Game. The film follows the exploits of Alan Turing, a code breaker during World War II and the godfather of modern computing, and it could result in an Oscar nomination for star Benedict Cumberbatch. There was also the September 26th date set for The Disappearance Of Eleanor Rigby starring James McAvoy and Jessica Chastain. That drama goes up against the animated film The Boxtrolls, the indie Laggies, the comedy Hector And The Search For Happiness, and Denzel Washington thriller The Equalizer.
Not to be outdone, Sony announced the shifting of some of their major properties. The biggest seems to be Adam Sandler's blockbuster Pixels, which has been given May 15th, 2015 as a release date. Summer 2015 begins with Avengers: Age Of Ultron, but unless your hopes are for Mean Moms the weekend after, Pixels is among a crop of films that are basically the first big movies that are going to face the superhero sequel. Also on May 15th is the long-awaited Mad Max: Fury Road, as well as Pitch Perfect 2. Getting a little crowded there – maybe they should pitch-slap that singing sequel to fall.
Sony also figured that we all noticed nothing was going on with The Smurfs 3, which was scheduled for August 2015. Now the film has moved to August 2016, pretty much the only release slated for that month. It's also being re-branded as, currently, the Untitled Smurfs Movie, suggesting they may monkey around with the series given that the second film fell so far below the first at the box office. Filling that open slot is Goosebumps, vacating its March slot to occupy August 7th, up against Assassin's Creed. Finally, Paramount's religion-themed relaunch of Ben-Hur has nailed down a relatively unoccupied release date of February 26th, 2016.
Your Daily Blend of Entertainment News
Thank you for signing up to CinemaBlend. You will receive a verification email shortly.
There was a problem. Please refresh the page and try again.