Black Water Transit Lawsuit Settled, But We Still May Never See It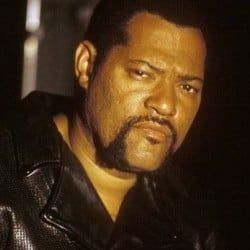 Director Tony Kaye is no stranger to movies that come with controversy-- he famously sued New Line for $275 million when they wouldn't allow him to use the pseudonym "Humpty Dumpty" on American History X, and has openly criticized both the studio and star Edward Norton for taking the film away from him. And even though his next film, Black Water Transit, is finished, it's still tangled in a series of lawsuits that may keep the film from ever being released.
THR has an update on the latest lawsuit, between producers David Bergstein and Chris Roberts, which has been quietly settled. Still Bergstein reportedly considers the film "unreleaseable," and it's unclear when the film might see the light of day, and who might release it.
Black Water Transit is a noir thriller set in a post-Katrina New Orleans, starring Stephen Dorff and Fishburne (who, you may recall, stepped in after Bruce Willis left the project). I'm not sure if Tony Kaye is cursed or if he's just causing his own trouble with what's clearly a combative personality, but it looks like we might be going even longer before we see another feature from the guy.
Your Daily Blend of Entertainment News
Staff Writer at CinemaBlend