Blackfish Team Jumps From Killer Whales To Rats In New Documentary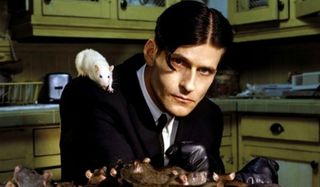 From killer whales to an army of rats? That's the path Dakota Group and Submarine – the producers behind the hit documentary Blackfish – are treading with the reveal of their next project. The team has announced plans to turn Robert Sullivan's best-selling non-fiction book Rats: Observations on the History and Habitat of the City's Most Unwanted Inhabitants into a feature-length documentary.
Sullivan will serve as an advisor on the project, which will begin filming early next year according to Yahoo! Movies. This means Dakota Group and Sullivan will not only get access to everything in the book, but to all of Sullivan's research as well.
Where does one go to film a documentary about the pesky rodents everyone hates? Why, New York City of course. It's been estimated that more than eight million of the furry creatures live in and under the Big Apple, and the new documentary will interview everyone from exterminators, garbage men, scientists, and regular Joes across the city while interspersing various "rat facts" into the presentation to help educate the general public.
The producers, who announced the film at The Toronto International Film Festival, are very excited about the project – which promises to show how rats have not only been responsible for terrible things like the plague, but also have been a vital component in some of the key discoveries in human history.
The creepy critters have been a staple of horror films and kids movies over the years, turning up in titles like: Willard, wherein a sociopathic misfit uses rats to torment his colleagues at work; Ben; and childhood favorite Charlotte's Web. This marks the first serious documentary that I can recall about the animals, though.
Dakota Group and Submarine have been in the public eye since the release of last year's documentary Blackfish. That film studied the treatment of killer whales held in captivity, focusing primarily on Sea World'd Tilikum, a massive Orca who's attacked and killed trainers. The documentary earned accolades and has sparked a debate about whether the way Sea World treats the animals is humane, leading to boycotts of the company's various parks. Rats, who aren't as loveable as even the most bloodthirsty killer whale, might be a tougher sell with audiences. Maybe next time, these guys can go all out and give us the New York City cockroach documentary we've all been waiting for. I'd totally watch that.
Your Daily Blend of Entertainment News
Thank you for signing up to CinemaBlend. You will receive a verification email shortly.
There was a problem. Please refresh the page and try again.