The Bodyguard Getting A Remake For Some Reason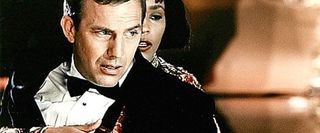 I had no idea that anyone remembered The Bodyguard for anything other than its soundtrack. Yet, even though the music seemed to get a lot more attention than the movie when it was released in 1992, apparently the film was a huge, global hit for Warner Bros. It made nearly half a billion. So of course they're remaking it.
The original movie starred Kevin Costner as the bodyguard of Whitney Houston's music superstar character, while following her life and career. As a plot, it really wasn't all that noteworthy. These days it's more of a punchline. Which makes you wonder why the hell Warner Bros. is remaking it. Is The Bodyguard really a franchise? Will name recognition really sell more tickets of they do it again? Somehow I doubt it.
Deadline says Jeremiah Friedman and Nick Palmer, who wrote an unproduced blacklist script called Family Getaway, will rewrite for the remake. As the remake wheel keeps turning, you've got to wonder how long it'll be before Hollywood stops even bothering to rewrite the script. It'd probably be cheaper just to recycle the old one, and it's not like they're doing this for anything other than name recognition anyway. Who cares if it's updated? For now, they'll go through the trouble to rewrite this one, turning Costner's bodyguard character into an Iraq war veteran.
The only thing that really matters about this project is who they cast in the leads. I'm picturing Christina Aguilera and Channing Tatum for some reason. It just makes sense. But I'd rather see Justin Bieber as the singer and Michelle Rodriguez as the bodyguard. To get me interested in this project, it's going to have to be pretty ridiculous.
Your Daily Blend of Entertainment News